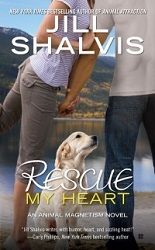 Title:
Rescue My Heart
Series:
Animal Magnetism #3
Author:
Jill Shalvis
Publication Date:
November 6/12 by Berkley
Length:
304pgs
Genre:
contemporary romance
Shelf:
borrowed
Rating: ★★★★★
Back Cover Blurb:
After a tragic stint in the National Guards, Adam Connelly returns to Idaho and to Belle Haven, the animal shelter he owns with his brothers. All Adam wants is to be alone. Then he opens the door to the past—the woman whose heart he once broke. Still gorgeous, still tough-as-nails, but this time, unusually vulnerable.
Holly Reid learned the hard way to never depend on a man for anything. Now, of all men, it's the last one she wants to see, and the only one she needs. Her father has gone missing in the Bitterroot Mountains and she could use someone with tracking skills to help find him.
For Holly and Adam, each with their ghosts, a trek this desperate, this unpredictable, and this intimate, will have its share of risks—including opening their hearts one more time.
My Review:
Shalvis has me completely hooked with her Animal Magnetism series, and this novel was no exception to the rule. The character-centric plot held me in its grips from cover to cover. I love how the characters came together after heartache, misunderstanding, and secrets. The way that the plot unfolded allowed me to get to know the characters well as they became reacquainted with both themselves and each other. I enjoyed the growth of character that we experience. It was well and tactfully done without going overboard. Adam's fight to become the man that he wants to be contrasted with Holly's realizations about herself in some intriguing ways. At the same time, the chemistry between the couple was off the charts, taking on a life of its own at times. Their similarities and differences make them who they are, also making the relationship all the more real.
Once again Shalvis has created a heartfelt novel that was both emotional and captivating. I loved each and every moment of it.
Book Links