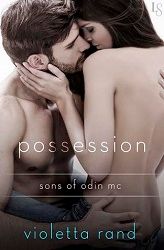 Title:
Possession
Series:
Sons of Odin #2
Author:
Violetta Rand
Publication Date:
April 12/16 by Loveswept
Length:
180pgs
Genre:
romantic suspense
Shelf:
review
Rating: ★★★★★+
Back Cover Blurb:
The Sons of Odin motorcycle club is back! Violetta Rand follows up Persuasion ("A seriously sexy thrill ride!"—Stacey Kennedy) with a sizzling short novel that takes passion to the brink of chaos . . . and beyond.
Ambitious young attorney Tina Bethel doesn't have time for commitment, but she wouldn't pass up some hot, no-strings sex with the right guy—like Sons of Odin officer Vincent Ramos. Six feet, five inches of solid muscle and biker masculinity, he revs Tina up like no man ever has. The trouble is, every time they get physical, Tina's cravings are never quenched—because Vincent always pumps the brakes before the point of no return.
With her sexy body packaged in a short skirt, Tina's enough to drive any man crazy. Vincent isn't sure how he's resisted her shameless come-ons. He just knows that if he gives in, he won't be able to stop—and after two failed marriages, he can't afford any more broken promises. But when a disgruntled client of Tina's starts stalking her, Vincent has to make up his mind about his true feelings—fast. Because if he's willing to put his body in the line of fire, he should be able to risk his heart in the name of love.
My Review:
Wow! Just Wow! I still can't catch my breath after this one. Rand melds steam with suspense, red hot romance with genuine feelings, and places it all amidst the dangerous world of an MC. I was captivated from cover to cover. Rand's unforgettable plot shine through as her vibrant, if at times dark, descriptions really bring out the best (and worst) in everyone. The intense and intricately woven plot took me to so many different places and evoked so many emotions that I couldn't get enough of it.
And don't even get me started on the characters! The heroine's need to stand on her own but realization that it isn't always possible made her infinitely real. The hero's need to protect what is his but acceptance that it may not be possible with Tina. Together, this couple not only lit the pages on fire, they also made me want to be part of the story. They had the type of romance that you crave, if with a bit of a twist.
The biggest downfall of this book was that it ended. I definitely wasn't done with the characters and am dying for more from this series.
Book Links
And now, be sure to enter this fantastic giveaway for an ecopy of Possession, a necklace (dog tag style in blue and pink) with the book quote Live Hard. Die Hard. Love Hard, & a $5 Amazon gift card.
Contest is open to residents of Canada & the US, where applicable by law.
Entries close at 11:59pm April 1/16.
Winners will be drawn April 2/16.
Winners will be notified via email to the email provided to the giveaway and will have 72h to claim their prize or another winner will be drawn.