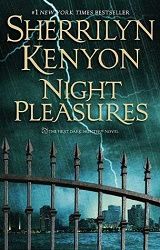 Title:
Night Pleasures
Series:
Dark-Hunter #1
Author:
Sherrilyn Kenyon
Publication Date:
September 15/09 (1st published Jan 1/02)
Length:
320pgs
Genre:
paranormal romantic suspense
Shelf:
borrowed
Rating: ★★★★★
Back Cover Blurb:
The Dark-Hunters are ancient warriors who have sworn to protect mankind and the fate of the world is in their hands. . .
He is solitude. He is darkness. He is the ruler of the night. Yet Kyrian of Thrace has just woken up handcuffed to his worst nightmare: An accountant. Worse, she's being hunted by one of the most lethal vampires out there. And if Amanda Devereaux goes down, then he does too. But it's not just their lives that are hanging in the balance. Kyrian and Amanda are all that stands between humanity and oblivion. Let's hope they win.
My Review:
What a way to launch this series. Kenyon hits the ground running with this fast paced, suspenseful tale. vivid descriptions bring the seamless narrative to life. Kenyon presents an intricately developed history and mythology that tie in tightly to modern day New Orleans. It makes the perfect backdrop for this series, making it so much more intense and involved than I could have imagined.
I couldn't help but fall in love with the characters in this novel. The cast may not have been large, but the individuals that we meet definitely pack a punch, sometimes literally. Seeing everything that Kyrian has been through completely blew me away. The interactions between him and Amanda present a relationship to be envied.
This was definitely an absolutely unforgettable novel that should be on every paranormal romance lover's must read list.
Book Links