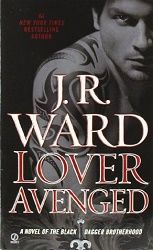 Title:
Lover Avenged
Series:
Black Dagger Brotherhood #7
Author:
J.R. Ward
Publication Date:
November 24/09 by Signet
Length:
642pgs
Genre:
paranormal romance
Shelf:
borrowed
Rating: ★★★★
Back Cover Blurb:
Caldwell, NY, has long been the battleground for the battleground for the vampires and their enemies, the Lessening Society. It's also where Rehvenge has staked out his turf as a drug lord and notorious nightclub that caters to the rich and heavily armed. His shadowy reputation is exactly why he's approached to kill Wrath, the Blind King, and leader of the Brotherhood. Rehvenge has always kept his distance from the Brotherhood, even though his sister is married to a member. Because he's a sympath, his identity is a deadly secret- the revelation of which will result in his banishment to a colony for sociopaths. And as plots within and outside the Brotherhood take their toll against Rehvenge, he turns to the only source of light in a darkening world- Elhena, a vampire untouched by the corruption that has its hold on him- and the only thing standing between him and eternal destruction.
My Review:
Ward returns to the Black Dagger Brotherhood with the same inviting, raw and hard characters that I've come to know and love throughout this series. The intricately crafted plot brings out the vivid action sequences with the same intensity as the sizzling bedroom encounters. Yet throughout it all, the story is both intensely real and woven with that something that keeps you coming back for more. I love how exciting and plausible the story seems, while bringing the paranormal to life in a larger than life manner. The characters that Ward has developed bring the story forward in an unforgettable light. They are so easy to love (and hate) that the story is truly an unforgettable one.
This may not have been my favourite novel in the series, but it was still an absolutely fantastic novel. I'll definitely be continuing to delve into this series and wouldn't hesitate to recommend it to others.
Book Links