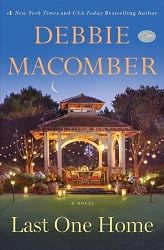 Title:
Last One Home
Series:
New Beginnings #1
Author:
Debbie Macomber
Publication Date:
March 10/15 by Ballantine Books
Length:
320pgs
Genre:
contemporary
Shelf:
borrowed
Rating: ★★★★
Back Cover Blurb:
Growing up, Cassie Carter and her sisters, Karen and Nichole, were incredibly close -- until one fateful event drove them apart. After high school, Cassie ran away from home to marry the wrong man, throwing away a college scholarship and breaking her parents' hearts. To make matters worse, Cassie had always been their father's favorite -- a sentiment that weighed heavily on her sisters and made Cassie's actions even harder to bear.
Now thirty-one, Cassie is back in Washington, living in Seattle with her daughter and hoping to leave her past behind. After ending a difficult marriage, Cassie is back on her own two feet, the pieces of her life slowly but surely coming together. Despite the strides Cassie's made, she hasn't been able to make peace with her sisters. Karen, the oldest, is a busy wife and mother, balancing her career with raising her two children. And Nichole, the youngest, is a stay-at-home mom whose husband indulges her every whim. Then one day, Cassie receives a letter from Karen, offering what Cassie thinks may be a chance to reconcile. And as Cassie opens herself up to new possibilities -- making amends with her sisters, finding love once more -- she realizes the power of compassion, and the promise of a fresh start.
My Review:
I enjoyed how Macomber lets readers get to know all three of the sisters in this novel. I loved each of them in their own way while never thinking any of them perfect. Seeing how their lives diverged yet came back together was heart-warming.
This novel definitely left me feeling a bit broken at times, engaging my emotions and allowing me to experience the trials and hurts alongside the characters. At the same time, Macomber left me with a feeling of hope and a promise of more. I love how engaged my emotions were with the story as a whole and with the characters themselves.
This intricately crafted story is a great start to Macomber's new series. It was a great deal of fun and a whole lot of heartache. I loved the realistic approach to life at its worst, and at its best.
Book Links