Q ~ Can you tell us a bit about yourself?
A~ I've always been extremely creative. I missed the clues that I might enjoy writing…Loved my creative writing class in high school and earned an A from a tough teacher…but like I said—Duh. I pursued Fine Art instead.
Fast forward several years and lots of twists and turns in my journey, and I became an RN to put food on the table. In nursing, creativity is highly discouraged by doctors who want you to follow their orders to the letter. Sheesh. I needed an outlet! So I took a course in screenwriting. That taught me how to tell stories, but Hollywood passed on my romantic comedies. Oh well. I live closer to New York, anyway. So I turned my 'movies' into novels. And the rest, as they say, is history. Eleanor Roosevelt said, "Well behaved women rarely make history." Well, I don't have to worry about that!
Q ~ What do you like to do when you're not writing?
A~ Making jewelry, reading, visiting friends, shopping…
Q ~ If you could have lunch with one person, dead, alive, or imaginary, who would it be and why?
A ~ Jim Carey, because he makes me laugh, and I love to laugh.
Q ~ What are you currently reading?
A ~ 3 books. One on my Nook, One on my Kindle, and a paperback for the bathtub. By the time this is printed, I'll have moved on to new titles, but I'll still have 3 going at once.
Q ~ Are there any new Authors that have grasped your interest recently and why?
A ~ I don't know if she's new or not, but Tricia O'Malley wrote a wonderful series set in Ireland.
Q ~ How did you begin writing? Was there a single catalyst or a series of events?
A ~ A romance series got my through the terminal illnesses of my parents. I took care of them in their home for several months. I read every time they were sleeping or had visitors. It was my guilty pleasure. Thanks, Diana Gabaldon. I try to pay it forward.
Q ~ What's the best thing that happened since you began writing? The worst?
A ~ Best: Meeting authors and fans who are now dear friends.
Worst: Being judged harshly or unfairly.
Q ~ What are your biggest influences in life? Who are your biggest supporters?
A ~ My husband, who I call Mr. Amazing.
Q ~ Do you prefer to write in a small town or big city setting? Why?
A ~ I write what I know. I lived in Boston for 4 years and it's still in my blood. I live in NH now, but it's like a suburb of Boston. Only an hour north (depending on traffic.)
Q ~ Can you tell us a little bit about your latest release and what inspired you to write it?
A ~ To be honest, I wasn't going to write any more dragons—and then my agent said I almost hit one of those prestigious lists with How to Date a Dragon, and my publisher wanted more.
I got motivated in a hurry. I don't want to hit a big list by 'cheating'. By that, I mean being in a boxed set with a gazillion other authors and selling it for 99 cents. I still want to make it on my own.
Q ~ What was the most difficult part of the process while writing?
A ~ For me, it's the physical act. I have severe arthritis in my neck and I never learned to type, so I have to look at the keys. Shoulder and neck muscles kill me if I sit at the computer too long. Add to that a recent 'yoga accident' and resulting tendonitis. I now use dictation software, lying on my back with my monitor projected onto the ceiling. Thank goodness for Mr. Amazing and his MacGyver skills.
Q ~ What characters did you find yourself especially drawn to and why?
A ~ Charming men. You know the type. They tease, but never in a mean way. They're funny.
Q ~ Do you have anything in the works at the moment? Care to give us a hint about it?
A ~ I'm trying to get Book 3 in the Boston Dragons series finished by its deadline. I've never missed a deadline, but with a lot of interruptions in recent months, this might be the first time.
Q ~ What advice would you give to an aspiring writer?
A ~ Never. Give. Up.
About Ashlyn Chase:
A multi-published eBook author, Ashlyn Chase specializes in characters who reinvent themselves, having reinvented herself numerous times. She has worked as a psychiatric nurse, and for the Red Cross, and has a degree in behavioral sciences. She lives with her true-life hero husband in beautiful New Hampshire.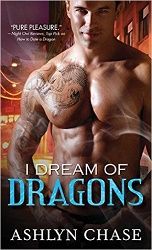 Title:
I Dream of Dragons
Series:
Boston Dragons #1
Author:
Ashlyn Chase
Publication Date:
April 5/16 by Sourcebooks Casablanca
Length:
352pgs
Genre:
paranormal romance
Shelf:
review
Rating: ★★★
Back Cover Blurb:
THE HEAT IS ON
When Rory Arish and his two fiery dragon siblings are run out of their ancestral Irish home, it seems their luck has run out-until they arrive in Boston and find a paranormal-friendly apartment building. Finally, Rory has a place to call home. There's only one problem: Rory's new lair has simultaneously been rented to an infuriating woman who is as stubborn as she is beautiful and will not leave 'her' apartment matter how steamed he may be...
AND SPARKS FLY
Amber McNally is a down-on-her-luck flight attendant. She needs this apartment, and not even a fire-breathing dragon with his Irish charm and scorching good looks is going to scare her away. Holing up in their respective corners, a battle of wills ensues. Who will be the first to blink...or give in to their off-the-charts chemistry and decide to make this unorthodox living arrangement a little more permanent?
My Review:
Chase draws readers back into Boston's paranormal scene with this fun filled novel. The plot is solidly crafted and the vivid descriptions allow readers entrance into this world. That said, I found that this novel had an almost cartooney feel at times. Although the plot was enjoyable I found the story hard to stay focussed on. It took me most of the novel to find the relevance of certain parts,
Chase has created some fun and well developed characters for this novel. The modern muses are a comical premise for these characters. I enjoyed the way that certain characters from her past books were also drawn into this novel.
As a whole this novel was a solid introduction into Chase's new series. It's a good starting place for those new to her work and a great addition for those who have already delved into it.
Book Links