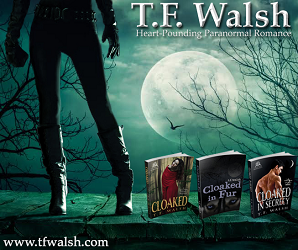 The Dangerous Art of Aerial Silk with TF Walsh
Being suspected fifty-feet in the air, on a silky piece of fabric, may not be most people's ideal job, but it is for Alena, from my novel Cloaked in Secrecy. Performing this dangerous act is an adrenaline rush she wouldn't swap with anything in the world.
"Alena wrapped her wrists in the silk and paraded around the ring with her arms stretched outward. She broke into a sprint, gaining momentum with each step.
My eyes locked on her form, her tapered waist, and toned arms. This wasn't great for my self-control, but I couldn't tear myself away. The crowd was silent, and even the music had died. Only the tapping of her feet on the sawdust-covered ground resonated as she picked up speed in her circular race around the ring. The red ribbons twisted overhead and drew her hands upward with each rotation.
On her next step, she lunged forward and lifted several feet off the ground. Her body, straight as a pin, orbited the circular performance ring, and the momentum of the ribbon starting to unwind sent her into a frantic spin." Cloaked in Secrecy, by TF Walsh, excerpt.
Together with her father and brother, Alena runs the Novac Circus along with thirty-seven other wulfkin. What better way for a pack of shifters to hide from the world than to do so right in front of their eyes. Cloaked in Secrecy follows Alena's story and what she risks to save her pack family from extermination at the hands of the same wulfkin she swears is her fated mate. When death has always taunted her, can she finally learn to outrun it?
So, where did Aerial Siks start anyway?
Aerial silks first appeared in a French circus school in 1959 when a student found a bolt of fabric in the local bizarre and performed her act completely on these fabrics. Funny thing is that the school seems to have no recollection of such a student, but the local newspaper did. So while we may never know who truly invented it, over the years, this style acrobatic style has become a popular act at most circuses.
Would you ever try aerial silks?
References: Simply Circus
www.simplycircus.com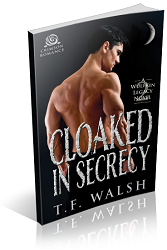 About Cloaked in Secrecy
Death has followed Alena Novac's circus family for years, but when the police arrest her brother for murder, she must rescue him before he transforms behind prison walls. With less than a week to execute her plan, a member from the Varlac family who murdered her mother reappears. Now, Alena has to decide whether to make good on her promise to avenge her mother's death or risk rescuing her brother.
Enre Ulf has one mission – prevent Alena's father from claiming his territory and slaughtering his wulfkin pack in Transylvania. Enre may have turned his back on his Varlac heritage, but that doesn't mean he won't impersonate one to infiltrate the circus clan and take out their alpha. Knowing that his secrets will lead to his demise, Enre takes the risk in order to save his home. What he never planned on was his wolf claiming Alena as his mate.
Now with the police closing in, and the real Varlac threatening them, Alena and Enre must overcome their pasts to save their packs' futures.
Cloaked in Secrecy is the book 2 in the Wulfkin Legacy series, but can be read a stand-alone-book.
Grab Your Copy
Wulfkin Legacy Series
Cloaked (prequel to #1) – Out now
Cloaked in Fur (Book #1) – Out now
Cloaked in Secrecy (Book #2) – Out now
Cloaked in Blood (Book #3) – May 9, 2016
Cloaked in Christmas – End of 2016
About The Author
T.F. Walsh emigrated from Romania to Australia at the age of eight and now lives in a regional city south of Sydney with her husband. Growing up hearing dark fairytales, she's always had a passion for reading and writing horror, paranormal romance, urban fantasy and young adult stories. She balances all the dark with light fluffy stuff like baking and traveling.
Sign up here
for T.F. Walsh's newsletter to keep up to date with latest releases, special offers, and exclusive content.