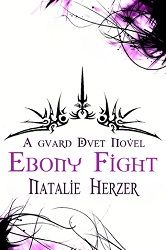 Title:
Ebony Fight
Series:
Guard Duet #2
Author:
Natalie Herzer
Publication Date:
January 31/16
Length:
202pgs
Genre:
Fantasy
Shelf:
review
Rating: ★★★★★
Back Cover Blurb:
A witch on the run
After allying Lillian's Ivory Guard, Becca is determined to round up more like-minded demons and Ebonys that could help in their fight against the old system. She knows her actions draw unwelcome attention and that she has to be careful now more than ever before.
So, is she foolish to trust Stone, the man who saves her brother's life - and stirs her blood?
A demon out to get her
Stone is as cold and hard as his namesake. When he infiltrates a group of rebellious demons to find out how far the do-gooder attitude has spread, he doesn't even blink at his orders to kill the leader. What he didn't count on was Becca - the hot whirlwind turning his world and heart upside down.
…and all hell breaks loose.
My Review:
Seamless yet multifaceted, intimate yet exciting and adventurous. Herzer returns to the world of her Ivory Guard with a flair that will keep you hooked from cover to cover. Vivid descriptions bring the action packed sequences to life as well as they do the intimate downtimes. Throughout it all, Herzer builds her world and the characters in a manner that kept me wanting more.
I loved the dynamics between the characters in this novel. The relationships weren't simple. The many layers made them all the more realistic. The interactions between individuals were so realistic that I felt as if I were part of them at times.
Once again Herzer has captured me with her vivid & intricate writing. This novel was enchanting from cover to cover, keeping me captivated throughout.
Book Links
And now, enter in this fantastic giveaway for 5 sets of The Guard Duet Series, books 1 & 2 (mobi, epub, or pdf formats only)
Contest is open internationally, where applicable by law.
Entries close at 11:59pm Mar 11/16.
Winners will be drawn Mar 12/16.
Winners will be notified via email to the email provided to the giveaway and will have 72h to claim their prize or another winner will be drawn.