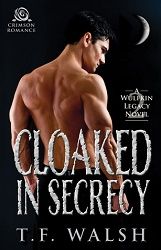 Title:
Cloaked in Secrecy
Series:
The Wulfkin Legacy #2
Author:
T.F. Walsh
Publication Date:
March 14/15 by Crimson Romance
Length:
242pgs
Genre:
paranormal romance
Shelf:
review
Rating: ★★★★
Back Cover Blurb:
The Wulfkin Legacy saga continues with this gripping tale of love under extraordinary circumstances.
Death has followed Alena Novac's circus family for years. When the police arrest her brother for a murder he didn't commit, she has only a week to rescue him before he transforms into his wolf form in prison and exposes their wulfkin existence to the world.
Enre Ulf, a former member of the Varlac, the fearsome ruling wulfkin clan, plans to infiltrate Alena's circus clan and take out their alpha to save his home in Transylvania. Except he never expected his wolf claiming Alena as his mate, or feeling compelled to save her brother to help protect the secrets of the wulfkin.
With the police closing in and the blood feud threatening them, Alena and Enre must overcome their pasts to save their packs' futures.
My Review:
Intrigue and secrecy rule the day as Walsh returns with readers to her world of the wulfkin. The feeling of darkness that permeates the tale gave me a chill. The strong characters draw this tale forward in an exciting and adventurous way. The vast array of personalities that we meet not only helped to develop the wulfkin, but also brought out various aspects of the story. I enjoyed how the action melded with the suspense, creating a compelling picture. Walsh's seamless writing brings it all together in one compelling package.
The powerful characters that Walsh uses to tell this tale made it even more gripping. Each of them definitely packs a punch in their own way.
Walsh has once again created a chilling, action packed novel that really brings her wulfkin and moonwulfs to life.
Book Links