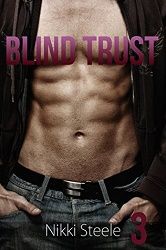 Title:
Blind Trust
Series:
The Billionaire & The Best Friend #3
Author:
Nikki Steele
Publication Date:
November 11/15
Length:
64pgs
Genre:
contemporary romance
Shelf:
review
Rating: ★★★★★
Back Cover Blurb:
Suddenly, things are complicated for Tiff. Her best friend and a billionaire both want her.
The billionaire is sexy, rich and used to getting his own way. On the outside he seems perfect. But inside? Something dark is growing. Something terrifying, lying just below the surface.
The best friend is hot as well; Tiff is just starting to notice his gorgeous blue eyes and impressive physique. The problem is, she's never seen a relationship of his last longer than three weeks. She doesn't want to become another notch on his bed post.
Things come to a head when both men demand to meet her. On one date, she'll end up fighting for her life. On the other? Well, he might just save it.
Blind Trust is the final action packed short story in a smoking hot romance trilogy. Half thriller, half eRom, it has a happy ending (HFN) and contains a BDSM scene which is for adults only and includes lots of sexy experimentation with handcuffing, bondage and light clamping.

This is the final book in a trilogy. It is recommended that the books are read in order for maximum enjoyment.
My Review:
Talk about an about face in this series! The evolution of Tiff & Ryan's relationship is complete and I am in love. These two were absolutely priceless here. Seeing them come out of the mess that Tiff made for herself both made me laugh and made me cringe.
The suspenseful interludes made the ending all the more poignant and heartfelt. The differentiation between BDSM and abuse become more clear, especially with respect to the story at hand and furthered the tale.
Overall, this was a hot, engaging story. Steele writes on the edge, mixing the acceptable with going too far.
Book Links