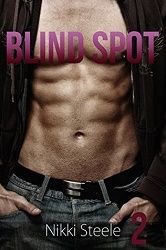 Title:
Blind Spot
Series:
The Billionaire & The Best Friend #2
Author:
Nikki Steele
Publication Date:
October 17/15
Length:
41pgs
Genre:
contemporary romance
Shelf:
review
Rating: ★★★★
Back Cover Blurb:
The evil billionaire is back on the scene. But he's changed.
The best friend is back on the scene as well.
But things have changed there too.
Now Tiff has a choice – should she go for the bad boy Billionaire who's not right for her, but might be right for now? Or risk ruining a friendship for a chance at lasting happiness?
Whatever choice she makes, her life's about to change forever.
Blind Spot is book two in a short, smoking hot romance trilogy. It contains light BDSM scenes which are for adults only, including blindfolds, restraint and some very hot (and cold!) temperature play.

Each book is a self-contained episode, but just like a good TV series, cliffhangers are used to build a larger storyline across the three books.
My Review:
What were you thinking? Wait! Wait! Not the author, but the main character. I mean, seriously, didn't she learn a thing from the 1st instalment in the series. All I could think throughout was 'Edward is such a dark guy, can't you tell he's lying to you!'
The prologue refresher at the beginning of this segment of Tiff's tale jogged me right back into the scene, allowing me to pick up where the last story left off. At the same time, the new twists and turns that Steel threw into the mix were fantastic. The realism and excitement of the story mixed with the hard hitting aspects of it. It was an intriguing mix that was the perfect stepping stone into the final segment of Tiff's journey of erotic self discovery.
Book Links