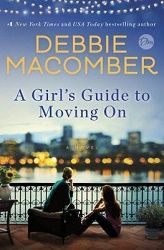 Title:
A Girl's Guide to Moving On
Series:
New Beginnings #2
Author:
Debbie Macomber
Publication Date:
February 23/16 by Ballantine Books
Length:
352pgs
Genre:
contemporary romance
Shelf:
borrowed
Rating: ★★★★★
Back Cover Blurb:
NEW YORK TIMES BESTSELLER • In this powerful and uplifting novel, a mother and her daughter-in-law bravely leave their troubled marriages and face the challenge of starting over. Leaning on each other, Nichole and Leanne discover that their inner strength and capacity for love are greater than they ever imagined.
When Nichole discovers that her husband, Jake, has been unfaithful, the illusion of her perfect life is indelibly shattered. While juggling her young son, a new job, and volunteer work, Nichole meets Rocco, who is the opposite of Jake in nearly every way. Though blunt-spoken and rough around the edges, Rocco proves to be a dedicated father and thoughtful friend. But just as their relationship begins to blossom, Jake wagers everything on winning Nichole back—including their son Owen's happiness. Somehow, Nichole must find the courage to defy her fears and follow her heart, with far-reaching consequences for them all.
Leanne has quietly ignored her husband's cheating for decades, but is jolted into action by the echo of Nichole's all-too-familiar crisis. While volunteering as a teacher of English as a second language, Leanne meets Nikolai, a charming, talented baker from Ukraine. Resolved to avoid the heartache and complications of romantic entanglements, Leanne nonetheless finds it difficult to resist Nikolai's effusive overtures—until an unexpected tragedy tests the very fabric of her commitments.
An inspiring novel of friendship, reinvention, and hope,
A Girl's Guide to Moving On
affirms the ability of every woman to forge a new path, believe in love, and fearlessly find happiness.
My Review:
I want a tow truck driver all of my own after this one! Macomber has definitely created a cast that will win readers over and taken them on one heck of a ride. Nichole really drew me in. I loved seeing her come out of the situation she found herself in. The combination of strength and vulnerability was a breath of fresh air. Conversely, Leanne's choices made me shake my head at times. Yet, her heart and soul shine throughout. This novel is extremely character driven and all the better for it. But that also means that individuals who don't connect strongly with the characters may not find it quite as enjoyable as I did.
Once again Macomber has created a novel that is chalk full of emotion and a whole lot of fun.
Book Links