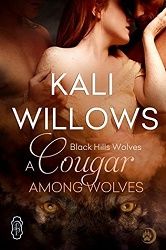 Title:
A Cougar Among Wolves
Series:
Black Hills Wolves #45
Author:
Kali Willows
Publication Date:
March 11/16 by Decadent Publishing
Length:
109pgs
Genre:
paranormal romance
Shelf:
review
Rating: ★★★★★
Back Cover Blurb:
A sadistic attack leaves Klaya, a Puma Clan Cougar, critically injured and the last of her family ferociously slain. She stumbles into Black Hills Wolf territory and collapses. Now under the protection of the pack, she finds herself whisked away to hide out in a cave until her old friend the alpha returns. Potentially the last of her shifter kind, she has nothing left to lose, but her life and a chance to avenge her brother.
After a dangerous rescue, on the edge of pack territory, Seth and Rogue take a woman on the brink of death back to the pack. Her identity and why she was brutalized is a mystery. The pieces soon fit together proving this assault was no coincidence. The Black Hills Wolves pack faces a bigger threat than they could even imagine. The trio soon find themselves on a tumultuous journey of life and death and relentless lust.
My Review:
What a story! Willows has created a work of art combining her unique characters in a shared world for something truly unforgettable. Each moment of this tale was punctuated with action, suspense, and romance. Vivid descriptions and a seamless narrative work together to create a story that was both supernaturally amazing and that packed a punch emotionally.
I loved Willows' concept of soul mates and how it works. I would have liked to have known if it's common for someone to have 2 mates, but in reality that's neither here nor there to this particular tale. This triad of characters filled the pages so fully that I was itching to be one of them (or at least to have what they have). Their three very distinct personalities meshed together in such a natural way. I also appreciated how they didn't have an uber-defined place in the world. They seemed to live in a grey area, pulling themselves back and moulding themselves to fit their role in the pack, yet when they were all together it was so natural to be just themselves. I enjoyed them each as individuals, but as a triad they truly carried a powerful punch.
With this tale Willows combines the worst of humanity with the best of characters who have heart. This may have been a quick read, but it was also a fantastic one.
Book Links