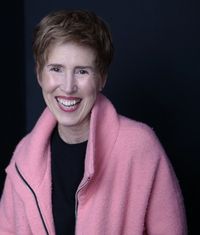 Q ~ Can you tell us a bit about yourself?
My life seems to be driven by two things that could be considered shortcomings: a tendency to get bored quickly and a reluctance to stick to a single direction. They go hand-in-hand, really. The result has been a lot of adventure but not much security, which is a trade-off I've come to accept. Living in Italy was one of those adventures and riding solo across the Mongolian steppes was another, both of which inspired novels.
I have two stellar daughters in their twenties and an ex-husband with whom I still get along well. At the moment I live in Nova Scotia, right on the edge of the ocean. People ask me if I've moved here permanently and I laugh because, although I love it here, permanence just isn't something I count on or go for in life.
For those who divide people into cat lovers and dog lovers, I live with a cat but I've also lived with dogs and I like them both. My astrological sign is Gemini, which kind of explains everything I just wrote.
Q ~ If you could have coffee (or tea) with any author who would it be and what would you ask them? And what would you have?
I'd love to have a Chai latte with Helen Dunmore, because she's my absolute favourite author. The tea is because I only have coffee once a day, a whopping quadruple espresso to kick-start my morning and then I abstain. I'd ask Helen how she manages to make every word count and how she retains the poetry of the language in a long narrative form. She's a master at leaving white space in her books. No extra fluff to slog through, just the right words and just enough of them to tell a great story.
Q ~ How do you think people perceive authors?
Well I guess that depends on the author! But I think often authors are seen to possess a kind of magic. When I write, it feels like magic to me. Characters are in my head living out their lives and dramas, and I get to capture that and make it into something other people can share. It never ceases to amaze me, how that happens.
Q ~ How do you feel about self-publishing?
As with most things in life, there are pros and cons. I've published both ways and there are advantages of credibility with a publisher. Authors get better media response, reviews, and general exposure with them because they're a gate-keeper and are perceived as a stamp of approval regarding the quality of someone's writing. The problem is, they're not always great gatekeepers. Good stuff doesn't see the light of day and lousy stuff gets out there all the same.
So the indie or self-publishing part of the industry serves a very useful purpose in democratising writing. As an indie author you get control and better royalties but you take on the cost of professional editing and design, and the huge challenge of marketing your own work in an ocean of alternatives being presented to every potential reader. It's daunting. Most writers are not at all skilled at it and can't afford to pay someone else to do it for them.
The net result is the book industry is in a messy state.
Q ~ What is your favorite quote, by whom, and why?
I don't actually have a favourite quote, because there are lots of great quotes out there for different situations. Choosing just one feels inadequate to the fluid needs of life. I do have a favourite poem, however, which I recite often: i thank You God for this most amazing by e.e.cummings. It reminds me to be grateful, regardless of whether or not God exists.
Q ~ What is your favourite genre to read? To write?
I like literary fiction best, and I lean towards historical fiction a bit because I often learn something interesting from it. I like reading about a universal human drama such as love or treachery unfolding in a time and place that's foreign to me.
For me it's much more stimulating to write a novel than non-fiction, because my imagination gets to come out and play. I have no genre preference; a story line occurs to me and I follow it in my head for awhile. If it's sticky – if it retains my own interest and I find myself building on it – then I want to turn it into a finished novel. That's pretty much how I choose what to write. I have some unfinished work that I return to from time to time to see if the characters are ready yet, but not every story turns into something worth finishing.
Q ~ Are there any new (or new to you) Authors that have grasped your interest recently and why?

My sister gave me
Circling the Sun
by Paula McLean for Christmas and I loved it, so now I'm going to read
The Paris Wife
. I like the combination of biography and fiction in her work, the sense that the crux of the story is not made up but real.
I also enjoyed reading Elena Ferrante's
My Brilliant Friend
, partly because of the time I spent living in Italy and partly because she's good at expressing the complex nuances of relationships and our conflicted motivations.
Q ~ How did you begin writing? Was there a single catalyst or a series of events?
I started writing when I was about 7, on an old Olivetti typewriter with no white-out for my many spelling errors. They were mostly anthropomorphic hero stories such as '
The Brave Rabbit
' and '
The Lion Who Learned to Roar
'. I illustrated them in crayon with bits of yarn stuck on for a mane and cotton for a bunny tail. My mother kept every last one of them, so I still have them. Thanks, Mom! I stopped writing stories after a few years, in the usual way of children losing their imaginations through a variety of social factors. Then in my late thirties I wrote a book about garden design because that was my profession at the time.
The Spirit of the Garden
was published by Stoddart Press in 1995. It was my first time in print.
I began writing novels when we moved to Italy in 1997 and I wasn't allowed to work. I really devoted myself to learning how to write well at that point, going to conferences and taking courses, finding a great editor, and reading a ton about writing. And writing, of course! It's a long process, learning how to write well. It never ends.
Q ~ Do you have any writing rituals that you follow? What is your go-to snack while writing?
I write 6 days a week when I have a book on the go, even if I can't think of a thing to say. Sometimes I sit in front of my computer for 3 hours and have a single sentence to show for it, and a crap sentence at that. But being there has my brain engaged in the story all the same. Even if it's not getting out of my head and into words, it's still making silent progress in the background just by me showing up and sitting there. I usually write in the mornings, because if I write in the evening it's really hard to sleep afterwards. Sometimes I'm at an exciting place in the book and I just keep going, because heaven knows you don't want to stop the flow when it's flowing.
Once I've done the first draft I leave it for at least two months before coming back and reading it again to make revisions, because I need that distance to really see what I've written and to be ruthless about editing it. I can't remember who it was who said 'a good writer has to be prepared to kill their babies' but they were exactly right. Even the sentences you love best, sometimes they just have to go.
I don't snack when I write. That's a foot on the slippery slope! Lemon-ginger tisane is my thing.
Q ~ Do you prefer to write in a small town or big city setting? Why?
No preference, it depends on the story.
Q ~ Can you tell us a little bit about your latest release and what inspired you to write it?
Colour Studies
is about Sarah, a young woman stalled in her art and recovering from a disastrous relationship, who moves to her grandmother's old house in the Italian countryside for a fresh start. At first it seems like the perfect place to get her life and art back on track, but soon the past starts intermingling with the present as strange dreams of love and loss wind their way into Sarah's nights. There are two narratives in the book: Sarah's current life and the new love who enters it, and her grandmother's life in the same house, a past that haunts the present. There's scandal, sex, romance, mystery, and a touch of spookiness, all set in Italy. It's a fun read.
The book idea came about when I was driving around in the Emilia Romagna hills with my family and we came upon a farmhouse that was just oozing character. There was something about it that had me thinking how some old houses seem to retain their history – you can feel it emanating from them. And then I started thinking about how it would be if that history were accessible to the current resident. How that might influence your sense of reality.
Q ~ What is your favourite part or scene in the novel?
That would require a spoiler alert, but I will say there's a phone call near the end that just tears me up every time I read it.
Q ~ Can you tell us a bit about the process that went behind the cover artwork for this novel?
The house image started as a photo that I took in Italy, though not of the house that inspired the book. I used an ipad painting program to convert it to a painting, then gave it to a book designer who added the layered image of the woman painting and did the rest of the set-up.
Q ~ What is your process for choosing character names?
I develop characters before I start writing the story, give them a backstory and get to know them in different situations before I set the story in motion and have them meet each other. I try to choose names that feel like the kind of person they are. So Katherine is imperious and formal and would never be Kate, for instance. Then there's the practical consideration of keeping the names sufficiently different from one another that readers don't get confused. In the case of
Colour Studies
I wanted a name for Sarah's love interest that sounded solid but romantic, and could be Italian as well as English, so he became Luke or Luca depending on who was addressing him.
Choosing names for my Mongolian novel
Pearls in the Ashes
required buying a book of Mongolian names and their meanings. The meanings were critical to the selection but the names also had to be something a Westerner could get their tongues around and remember easily. Especially the main character.
Q ~ What characters did you find yourself especially drawn to and why?
I always feel an unconditional love for my main character. I'm rooting for them even when they're being an idiot. If I create a main character I don't love like that, I can't see them through to the end of a story even if I think the story idea is great. I just don't care enough about what happens to them to bother with all the effort involved.
In
Colour Studies
I also have a major soft spot for Gianluca. I could imagine falling in love with him at first sight; his mixture of roughness and romanticism, of muscle and musical tenderness. And his persistent yearning.
Q ~ What are you working on next?
I have a few different projects in my head at the moment and I'm not sure which is going to be the one I work on next. One is the story of a man who finds himself possessed of a massive musical talent in mid-life. It's something he's always dreamed of but it comes with a terrible price that doesn't get revealed until he's quite caught up in the talent and the changes it's brought to him. A bit Faustian.
Another is a love triangle, set in Milan, between an opera diva, her fiancé the music director of the opera house, and her costume designer who has been commissioned to create her wedding dress. I want to tell it in the voices of both women, each chapter switching back and forth between the two perspectives. I like the mix of creativity and passion in that story idea. It would be a light read.
And last but not least, a sequel to my non-fiction book
Gumption: A Practical Woman's Guide to Living an Adventuresome Life
, dealing specifically with gaining gumption in romance. Since these books are based on the experiences of many women, I'd have all the fun of interviewing lots of them about when they've been daring in love and how they managed it.
Q ~ Do you have any conferences/book signings/events coming up?
I have some speaking engagements for Gumption coming up but they're closed events. I'm one of those authors who's not good at self-promotion so I haven't arranged anything for
Colour Studies
.
Q ~ If you could give aspiring authors one piece of advice, what would it be?
Completing the first draft might feel momentous in itself, but don't even bother if you're not willing to then go through the much more arduous task of revising, revising, revising, with the help of a good editor, until your book is truly worth reading. Editors are indispensible for crafting a worthy book because we authors are way too close to our own work to be able to see it clearly. Writing is hard work and takes discipline as much as it takes creativity.
About the author:
Canadian by birth but global by desire, Shelagh has lived in England, Switzerland, the United States, and—most memorably—Italy. With kids and dogs and cats in tow.
Her writing:
Colour Studies
was inspired by a car trip through the hills of Emilia Romagna, where a stone farmhouse nestled in a hillside inspired an idea about how past lives might continue to inhabit old houses.
Gumption: The Practical Woman's Guide to Living an Adventuresome Life
began as a conversation in an airport about the nature of being adventuresome, became a much larger conversation with hundreds of women, and turned into a six-step program for helping women everywhere do the things they've always wanted to do.
Pearls in the Ashes
is the result of a long-awaited trip. Ever since she first saw Omar Sharif in Ghengis Khan, Shelagh longed to travel across Mongolia's steppes on horseback. It took several decades for her to achieve that goal, but the journey led to discovering the incredible history behind the story.
Shelagh currently resides in Nova Scotia, where she continues to plot more adventures and stories. Her popular blog posts have been featured in Huffington Post as well as on her website www.practicalwomansguide.com.