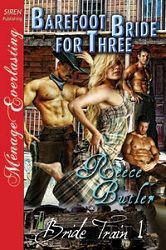 Title:
Barefoot Bride for Three
Series:
Bride Train #1
Author:
Reece Butler
Publication Date:
August 2010 by Siren-Bookstrand
Length:
213pgs
Genre:
historical romance/menage
Shelf:
own
Rating: ★★★★
Back Cover Blurb:
Elizabeth James escapes an odious fiancé by heading west on the first Bride Train of 1870. She finds herself at the end of the line in the Tanner's Ford jail, forced to marry the town bully unless someone else defies Big Joe to marry her.
Sheriff Chambers banned the Elliotts from town until one got a wife and settled them all down. Finding a defiant Trace Elliott in town, the sheriff offers a tall, ornery barefoot woman to solve all their problems.
Beth is shocked how the stranger's touch inflames her and mortified the next morning when hotel patrons comment on her amorous wedding night cries. She discovers the Elliott men share everything and intend to seduce her into agreeing. Trace, Simon and Jack heat her blood, but do they care for her, or only what she provides? Then Big Joe offers gold to bring her to him…
My Review:
Butler is a sinfully descriptive, wildly erotic author who combines all the excitement of the bedroom with all the emotion of a budding relationship in one complete package. She brings the hardships of the western expansion to life right alongside all the excide of a ménage relationship in a vividly realistic manner that not only drew me in, but had me wishing for these enticing men for myself.
I loved getting to know the characters that Reece has developed for this chemically charged tale. Trace's strength of character yet unassuming attitude towards himself was both a contradiction and an endlessly endearing character. His brothers' loyalty towards him added to this unmistakable, indescribable aura that surrounds him. Beth was the perfect woman to throw into this mix. Her strength of character is tempered by the misconception of herself that was perpetuated by her family. I loved seeing these four make a family of their own while also lighting the pages on fire.
This was a delightfully quick, sinfully sizzling read. It was my intro to Butler's work, but I'm definitely hooked now! I can't wait to delve further into her repertoire.
Book Links