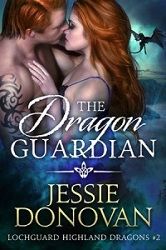 Title:
The Dragon Guardian
Series:
Lochguard Highland Dragons #2
Author:
Jessie Donovan
Publication Date:
February 18é16
Length:
246pgs
Genre:
paranormal romance
Shelf:
review
Rating: ★★★★★
Back Cover Blurb:
Gina MacDonald may be pregnant and on the run, but she will do anything to protect her unborn child—even go up against a dragon-shifter. While hiding in the wilds of the Scottish Highlands, she soon notices the black dragon perched on the nearby hills. She debates if he is related to her past or not, but then a pain overcomes her and the dragon finally swoops down to help. Despite her determination to stay clear of all dragon-shifter males, his touch not only helps ease her tension, it sets her skin on fire.
Fergus MacKenzie protects his clan by collecting information and warning them of threats. When a redheaded American shows up out of the blue along a nearby lake, he watches her to find out more. However, when he watches her bend over in pain, he flies down to help her. Afterward, he should walk away. But he can't stop thinking about her green eyes and addictive touch. Both man and beast want her more than anything in their lives.
As Fergus learns more of Gina's past, he knows she will bring danger to his clan. Torn between protecting his family and following his heart, will Gina and Fergus be able to find a happy ending? Or, will danger force Fergus to choose between love and clan?
My Review:
I loves me some Scotsmen, and when they shift into dragons? Even better!
This novel is just as exciting as Donovan's other dragon shifter stories, but even more emotionally hard hitting. I love the intricate development of dragonshifter culture, way of life, and history. It truly enhances the exciting tale that Donovan weaves. Donovan writes sex scenes that are hot as sin, yet that also serve to build an emotional relationship between the main characters.
Let's not forget the characters in this fantastic novel. Donovan doesn't mince words when it comes to her characters' personalities. They're vivid, larger than life, and oh so real. I couldn't help but get caught up in the family dynamics that appear. Every character in the novel has an important role to play, coming to life in unforgettable manner without overpowering the main characters. I found Gina and Fergus to be one of the most intriguing couples to date as Fergus shows once and for all that there's definitely more to the mate bond than simply instinct and bred-in necessity.
Action packed and suspenseful at times, sizzling hot at others, and yet, Donovan still manages to portray the camaraderie of everyday life on Lochguard with ease & a flair that will have you wanting to become part of the clan.
Book Links