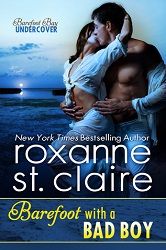 Title:
Barefoot with a Bad Boy
Series:
Barefoot Bay Undercover #3
Author:
Roxanne St. Claire
Publication Date:
February 16/16
Length:
342pgs
Genre:
romantic suspense
Shelf:
review
Rating: ★★★★★
Back Cover Blurb:
A man who trusts no one is forced to believe the unbelievable...
For years, former spy Gabriel Rossi has been secretly searching for CIA linguist Isadora Winter, a woman he loved and lost long ago. But recently, he learned of her untimely death in an accident...and death of her son named Gabe. Angry, hurt, and uncertain of his next move, Gabe is stunned when a woman he's never met approaches him on the beach and claims to be Isadora. She doesn't look, act, or talk like his beloved Isa, but she knows things about their past that only a lover could know, and she assures him that his son is alive as well. As much as he wants to believe her and knows that in the spy world, anything is possible, doubts and distrust plague him. Still, he sees glimmers of the woman he once knew shine through and she begins to melt his hardened heart.
A woman who is tortured by emotions must endure the pain of love...
Lila Wickham has been working deep undercover for so long that sometimes she's forgotten who she really is. Now that her assignment is over and the surgeries she endured left her utterly changed, she is determined to fix the broken life she left behind and assure that her little boy is safe. With lingering threats from an unknown source and blinding headaches that torment her whenever she feels deep emotion, she seeks Gabe Rossi for help and protection. But instead of setting her up with a new undercover identity, he insists on luring her nemesis to Barefoot Bay so he can end the threat to Lila and her son once and for all.
Can they survive the worst betrayal of all?
Even if they succeed in drawing out the killer who has Lila in his sights, a much more serious threat hovers over them...a treacherous, deadly truth that could not only destroy their love but end their lives as well.
My Review:
Once again St. Claire has created a novel I simply couldn't put down. Not only was this story intense & fast paced throughout, but the intricate backstory that St. Claire presented had my heart on my sleeve. The combination of everyday life in Barefoot Bay with the very spy-esque premise was fantastic. There were definitely some plot twists and turns that I never saw coming. St. Claire combines with best of real romance with subtle intrigue and some all-out action throughout to create a whole that is so much more than simply the sum of its parts. Picturesque descriptions combine with intensely, vividly in your face ones to create different feelings and moods throughout the novel. The tranquility of the setting contrasts with the intensity of the plot in a manner that left me breathless.
Gabe's bad boy attitude combined with his complete distrust of everyone created a hero that I couldn't help but fall for. His strength despite and because of everything in his past was unforgettable. I loved how Lila was a strong heroine who still had vulnerabilities. This combination made the entire story all the more poignant for me. The complicated yet intricate relationship between these two tugged at my heart. At the same time, the off the charts chemistry made the pages sizzle at times, without detracting from the fast paced suspense of the tale as a whole. The fact that St. Claire goes in-depth with her character development for her secondary characters as well creates a feeling of completeness in the story. The complex interpersonal relationships kick the story up to the next level.
This novel is going to become a staple on my shelves. It's a fantastic read for fans of Barefoot Bay and for those just looking for a standalone to read. But I will warn you, you'll get sucked in to this world and end up dying to read more!
Book Links