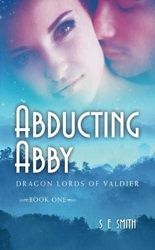 Title:
Abducting Abby
Series:
The Dragon Lords of Valdier #!
Author:
S.E. Smith
Publication Date:
March 24/12 (1st published September 1/11)
Length:
182pgs
Genre:
paranormal/sciFi romance
Shelf:
own
Rating: ★★★★★
Back Cover Blurb:
Abby Tanner is content to live on her mountain creating her beautiful works of art and enjoying the peace and quiet. All of that changes when a strange golden space ship crash lands on it. Now, Abby has to deal with a golden ship, a tortured alien, and an insane local sheriff.
Zoran Reykill knew he had to find a safe place to heal after he escapes from a Curizan military post. When his symbiosis mothership takes him to an unknown planet he finds more than he expects – he finds his true mate. The only problems are Abby doesn't understand a thing he says and the local sheriff wants her too. There is only one thing the King of Valdier can do, abduct his true mate.
Now Zoran has his hands full trying to keep his true mate safe in his own world while trying to help her accept her new life. He will need all the help he can get to help his stubborn human accept she can make a life in a place other than her mountain back on Earth. He just needs to keep her alive long enough to enjoy it and away from the other males on his planet who wouldn't mind helping her accept her new sensual body.
One thing he knows he will never regret – abducting Abby
My Review:
I found it very easy to immerse myself completely in this story. The mix of action and romance, cultural divides and acceptance, all combined into an unforgettable story that launches readers out of this stratosphere. The consistent forward pace neither rushed nor lagged, allowing me to enjoy the story completely. The natural flow to the dialogue helped bring the characters to life.
Smith has created some wildly original species and races for this novel (and the series as a whole). I love the added kick that she's thrown into the mix. And the well-developed yet approachable manner in which she presents it all makes it not only easy to picture, but seem quite plausible as well. This was backed up by Smith's well developed world and universe building that literally transported me to another word.
I enjoyed how Smith introduces readers to both main characters separately before they ever meet each other. Zoran was a complex mix of sweet and demanding. His high handed decrees combined with Abby's desire to be her own person was an interesting contrast. The contrasts between culture in Valdier and that in the US made for some very comical moments.
This novel was comical at times, emotional at others, yet always a fun read. It may have been my first novel by this author but it certainly will be far from my last. Smith has opened up new worlds to me that I can't wait to delve further into, nor would I hesitate to recommend this to others.
Book Links