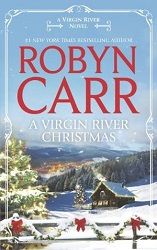 Title:
A Virgin River Christmas
Series:
Virgin River #4
Author:
Robyn Carr
Publication Date:
November 1/13 by Harlequin MIRA (1st published February 1/08)
Length:
291pgs
Genre:
contemporary romance
Shelf:
own
Rating: ★★★★★
Back Cover Blurb:
Last Christmas Marcie Sullivan said a final goodbye to her husband, Bobby. This Christmas she wants to find the man who saved his life and gave her three more years to love him.
Fellow marine Ian Buchanan dragged Bobby's shattered body onto a medical transport four years ago, then disappeared once their unit arrived stateside. Since then, Marcie's letters to Ian have gone unanswered.
Marcie tracks Ian to the tiny mountain town of Virgin River and finds a man as wounded emotionally as Bobby was physically. As Marcie pushes her way into his reclusive life, she discovers a sweet soul beneath a rough exterior.
Ian doesn't know what to make of the determined young widow who forces him to look into his painful past and the uncertain future. But it is a season of miracles and maybe, just maybe, it's time to banish the ghosts and open his heart.
My Review:
Carr once again returns to Virgin River with a tale that will melt your heart and have you falling in love. The breathtaking scenery enhances the emotionally turbulent tale, transporting you to the outskirts of Virgin River. This tale tackles some emotionally hard hitting topics, without cutting corners. At the same time, love and friendship shine through creating a whole that I couldn't look away from. I thoroughly enjoy how Carr portrays her ex-military men. The aura surrounding them as well as their take on life is great and so realistic, showing these alpha males as they truly are.
The main characters in this novel at first struck me as an odd pair, but I absolutely love the way that it turned out. Marcie's strength tempered Ian's subtle faltering. I loved the way that their emotions played across the page. I will admit that there were more than a few times when I couldn't tolerate Erin. Although one can understand where she's coming from, she takes the overprotectiveness to the point of controlling, taking away choices from her siblings. I cheered out loud when Marcie finally stood up to her.
And for those of us who enjoy audiobooks as well, I've read the print version and listened to the audio book. The narrator for the audio version really brings this tale to life. It's a fantastic experience.
Book Links