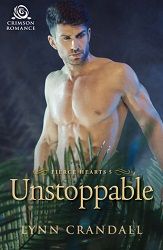 Title:
Unstoppable
Series:
Fierce Hearts
Author:
Lynn Crandall
Publication Date:
February 22/16
Length:
234pgs
Genre:
paranormal romantic suspense
Shelf:
review
Rating: ★★★★★
Back Cover Blurb:
Reeling from the recent Project Powering battle with the evil Nexus Group, were-lynx and veterinarian Lara Monroe struggles with thwarting the group's plans to eliminate her colony while dealing with her own traumatic past. Still, when her fellow colony cat—and secret crush—Booker Chase needs help, she's willing to use her special healing touch to help him survive his emotional hell.
A formidable were-lynx and a physician, Booker has his hands full helping patients who were seriously injured in the battle. But nothing can repair his soul, broken from the loss of his wife and the PTSD from his service in Afghanistan … or can it? Now that his good friend Lara is standing by him in his emotional struggles, he's finding there is more to their connection than he realized. But dare he open his heart?
In the epic conclusion of the Fierce Hearts series, the colony takes its biggest risk of all to shut down the Nexus Group forever—will Lara and Booker survive to take their second chance at love?
My Review:
Crandall returns to the world of were-cats and TNG in an exciting & action packed tale that kept me on my toes throughout. I enjoyed the intensity of the story and how Crandall had me actually fearing the outcome, unable to fathom how it could turn out well as the evil seemed to be overpowering at every turn. But underneath it all, this is a story of hope that lets you see the goodness that flows through the world. It brings the joy in life forward while also letting you see the sorrow.
The characters that I've come to know as friends really shone in this novel. I love the differentiation between the different types of were-cats, along with the similarities. I enjoyed seeing their investigative efforts of the group, as well as the protective ones. The unity of the colony really stood out while individuals shone.
Although I'll admit that I'm distraught beyond compare with the ending of this series, I will admit that this was the perfect conclusion to an endlessly entertaining, wildly suspenseful, and emotionally enriching journey.
Book Links