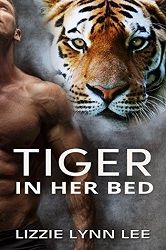 Title:
Tiger in Her Bed
Series:
BBW Weretiger Billionaire Shapeshifter Paranormal Romance
Author:
Lizzie Lynn Lee
Publication Date:
December 23/15
Length:
79pgs
Genre:
paranormal romance
Shelf:
review
Rating: ★★★★★
Back Cover Blurb:
Hot Guy + Big Cat = Trouble
It was a simple dare. Walk to her brooding, hot boss, Quinn Alexander, in the middle of the New Year's office party and kiss the arrogant smirk off the bastard. Fueled by too much alcohol, Vanessa Lyle impetuously takes up the challenge.
The next morning after the hangover fades, she's mortified. To think she'd been drunkenly brazen enough to steal a kiss from her boss. Quinn will fire her for sure.
To her surprise, she gets to keep her job because Quinn demands she fix the problem she's caused. Someone had taken a video of that scandalous kiss and posted it on social media. The video went viral. Quinn's mom happens see the video and demands to meet his "girlfriend." Quinn orders Vanessa to pretend to be his woman just to keep his mom off his back.
During a weekend at his parents' house, Quinn takes pretending to a whole different level. He can't keep his hands off her, in and out of his bed. But then she discovers his furry secret. Hot guy + big cat = trouble, and curvaceous Vanessa learns it the hard way...
My Review:
This story is pricelessness personified. This author made me laugh and fall in love at the same time. I love how she brought the world of shifters into reality for me. The vivid descriptions combined with the hot & sassy plot to create a novella that was a blast to read. Lee is an author with the ability to build emotions in a relationship through a hot yet touching sex scene. The pages sizzle with it.
I love how raw & real the characters are. The main characters were vivid and easy to fall for. They were remarkably well developed for a novella. I felt as if I really got to know them as they got to know each other. Quinn's in control attitude combined with Vanessa's laid back, studious one to create a couple that really fits together. Not only that, but Quinn's family was a blast to get to know. They helped bring everything into perspective for me.
As a whole this was a fun, hot, inviting read that was the perfect way to spend a few hours. It was my first read by this intriguing author but it most definitely will not be my last.
Book Links