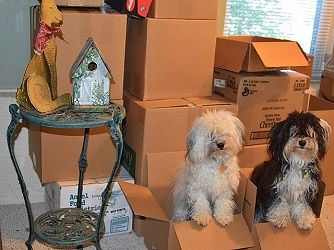 What's your favorite way to spend a Saturday? by Terry Spear
Every day is a writing day, which I love. But besides writing, I also love to spend my Saturdays taking photos of the wildlife around my house. From the squirrels at play, to the cardinals sharing at the feeders, the wild bunnies and doves eating seeds on the patio, or the blue birds, which I'd never seen before, catching winged bugs under the eaves, I like seeing them all. But when this blog comes out, I'll have moved, so not sure what I will be photographing at my new house. I do know that I'll have my camera ready though!
It's a new home, though landscaped out front, and has ancient pine trees too, both in the front and backyard. I can't wait to plant some more plants to give the home more privacy, a sound barrier, and a place for the birds to gather. I love to garden, so I can't wait, but I'll still be unpacking boxes for a while so that will probably have to come later!
They also have trails all over, so I'm looking forward to walking them on Saturday mornings with my two Havanese puppies, and with my daughter and her Corgis as she'll only be a half mile away.
The last time we walked all four dogs together, she walked them and I took pictures.
But I also might be working on making new stuffed bears. I had a gigantic moving day bear sale and so I need to replenish my bear stock.
And then I'm back to writing.
About the author:
USA Today
bestselling author Terry Spear has written over fifty paranormal and medieval Highland historical romances. In 2008 Heart of the Wolf was named a Publishers Weekly Best Book of the Year. A retired officer of the U.S. Army Reserves, Terry also creates award-winning teddy bears that have found homes all over the world and is raising two Havanese puppies. She lives in Crawford, Texas.
Title:
SEAL Wolf In Too Deep
Series:
Heart of the Wolf #18
Author:
Terry Spear
Publication Date:
February 2/16 by Sourcebooks Casablanca
Length:
352pgs
Genre:
paranormal romantic suspense
Shelf:
review
Rating: ★★★★
Back Cover Blurb:
Love spells danger for an alpha SEAL wolf and the woman who steals his heart in this steamy shifter romance from USA Todaybestselling author Terry Spear
His love is dangerous
As a Navy SEAL and police diver, alpha wolf shifter Allan Rappaport knows how to handle tough situations, but the arrival of a human diving partner-especially one as attractive as Debbie Renaud-is a whole new challenge. Getting involved is dangerous, but Debbie's offers are hard to resist. As the heat between them rises and a murder plot thickens, Allan is on the brink of exposing his biggest secret.

But she's diving in headfirst
For Debbie, working with another top-notch diver like Allan is too good to be true, and their mutual attraction is hotter than she could have dreamed. Debbie suspects he's hiding something, though, and she's set on figuring it out-one off-duty rendezvous at a time. But when Debbie gets between a werewolf hunter and his intended victim, suddenly she is plunged straight into the heart of Allan's world-a world she never knew existed.
My Review:

What a vivid and exciting novel! Spear enters the secret world of wolf shifters in a manner that allowed me to really picture it. The action and suspense was thrilling. The chemistry sizzled off the page. The plot was intricately woven to create a whole that really drew me in. At the same time, the characters were so vividly real. I love how I can really picture it all happening next door without ever having known about it. This makes it all the more real.

The characters in this novel were fantastic. I had so much fun getting back with Spear's wolf pack. Allan's alpha persona drew me in but his caring, nurturing nature had me falling head over heels for him. Debbie's attitude and ability to stand on her own makes her the perfect match for Allan, even if they don't always see eye to eye. And personally, I can't wait to find out what happens next with our resident homicide detective. He's got my attention sparked.

Once again Spear had created a wolfish novel that really held my attention. It was fun, exciting, and a great read on its own or as part of the series.
Book Links
Goodreads - Amazon.com - Amazon.ca - B&N - Kobo - Indigo - Google Play
Be sure to enter this fantastic tour wide giveaway!