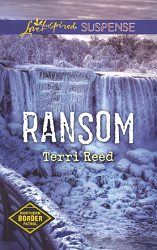 1) What are five words that describe your writing process?
Controlled chaos, linear, plot driven.

2) Is anything in Ransom based on real life experiences or purely all imagination?
For the most, part pure imagination. However since this is an inspirational, the faith element draws upon my own understanding and learning of God.

3) If you were to name one piece of clothing that describes your personality, what would it be?
Yoga Pants.

4) Do you work with an outline or plot or do you prefer to just see where an idea takes you?
I am a heavy plotter. I like to have a detailed outline to write from otherwise I meander, which slows the process.

5) Who is your favorite literary villain and why?
My favorite would be Mrs. Bennett from Pride and Prejudice. Most people think of Mr. Bennett as the villain but to me it is Mrs. Bennett who drives the story with her neurotic, fanciful, panic-stricken obsessive need for security and her willingness to push her daughters into loveless marriages. My daughter played Mrs. Bennett in her high school production of Pride and Prejudice. She stole the show with her very natural comedic flare and vivid portrayal of the conniving Mrs. Bennett.

6) What was your favorite scene to write in Ransom?
I always enjoy writing the declaration scene where my hero and heroine are ready to let down their guard, open up and risk their hearts.

7) If you had your own talk show, who would your first three guests be?
Hugh Jackson, Susan Elizabeth Philips, Carol Burnett.

8) What did you find most useful/least useful/most desctructive in learning to write?
The most useful tool in learning to write was the craft book Techniques of the Selling Writer by Dwight Swain. The least helpful, hmmm, I can't think of anything specific. I guess I would say harsh contest judges.

9) What does a perfect day look like to you?
A light breakfast and a good cup of coffee-like a hazelnut milk cardamom latte or an almond milk caramel latte—an hour of Zumba, five to six hours of productive writing and someone else cooking dinner.

10) What are you working on next?
I just turned in the fifth book in the Northern Border Patrol series, titled Identity Unknown. This book features a secondary character from Ransom. Canada Border Service officer Nathanial Longhorn gets his own story set in the fictional town Calico Bay on the coast of Maine. Up next, I'm developing a new series for Love Inspired Suspense. I'm still in the early stages so I don't have details to share yet. But I'm going to put to use my 14 weeks at the Washington County Sheriff's Department Citizen's Academy. I filled an entire notebook with in-depth info and can't wait to put those notes to work.
About the author:
TERRI REED discovered the wonderful world of fiction at an early age and declared she would one day write a book. Now she is fulfilling that dream and enjoys writing for Steeple Hill. She is an active member of both Romance Writers of America and American Christian Fiction Writers. She resides in the Pacific Northwest with her college-sweetheart husband, two wonderful children and an array of critters. When not writing, she enjoys spending time with family and friends, gardening and playing with her dogs.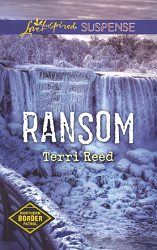 Title:
Ransom
Series:
Northern Border Patrol #4
Author:
Terri Reed
Publication Date:
February 9/16 by Love Inspired
Length:
224pgs
Genre:
romantic suspense
Shelf:
review
Rating: ★★★★
Back Cover Blurb:
"WE HAVE YOUR SISTER."
Liz Cantrell is terrified when she receives a call from a man holding her newlywed sister captive - and she's convinced her sketchy brother-in-law's involved. Willing to pay any price for her sister's freedom, Liz flies to Niagara Falls with the ransom: an uncut diamond necklace worth millions. But the moment she lands, a handsome, world-weary Immigration and Customs Enforcement agent takes her into custody. Blake Fallon's determined to catch a ruthless diamond smuggler - and the pretty antiques dealer trying to save her sister could be just the break his case needs. But as they team up to rescue Liz's sister and trap the criminal mastermind, a desperate stand-off will threaten everything they hold precious - including their lives.
Northern Border Patrol: Keeping the US-Canada border safe.
My Review:
Reed creates an intense suspense throughout, brought on by the well plotted tale, rather than by a bunch of explosions. The story was fast paced without rushing, allowing me to enjoy every minute of it. I appreciated the research that went behind putting the correct type of police officers in the correct areas. Reed didn't allow prevalent stereotypes to stand in the way of a realistic portrayal of events.
Reed has developed some inviting characters to carry this story forward. Both main characters have complicated pasts that shape who they are today in very real & meaningful ways. She builds a sweet romance between them, built on mutual trust and understanding, as well as on circumstance.
This well written novel reads well on its own or as part of the series. It's one of those tales where both the romance & the suspense stand out but rare inextricably woven together.
Book Links