Q ~ Can you tell us a bit about yourself?
Thank you so much for inviting me to be a guest today!
So a little about me. . .
I didn't start writing until five years ago this month, and it wasn't long until I realized I'd found my passion.
I stopped teaching recently to write full-time and with my February releases, I'll have twelve books or novellas of my own and another half a dozen cooperative projects with other authors.
As many romance authors do, I started off as a reader and decided to give write a shot.
I've never regretted a moment of it.
Q ~ What's something that you never leave home without?
My phone.
Which is really sort of sad, because I don't even like talking on the phone.
Q ~ If you could have coffee (or tea) with any author who would it be and what would you ask them?
Oh, that's hard because I've made some absolutely lovely author friends since I started writing. But the first person who sprang to mind was Christi Caldwell. She's such a sweet person!
Q ~ How do you think people perceive authors?
Well, I think it depends on what the authors write. Romance authors don't generate the respect other genres do, although that is slowly changing.
I don't think non-authors understand what goes into writing and publishing a book. I know I didn't before I started down this path.
Q ~ Ebooks, paperbacks, or hardcovers?
I'm still a paperback kind of gal. I do have a shelves filled with hardcovers, but I started of reading paperbacks and they remain my favorite.
That being said, I read a lot of eBooks on my Ipad. I don't like reading them on my Kindle.
Q ~ What was the first romance novel that you ever read?
I love this question, because though I don't remember the exact title, I know the author was Barbara Cartland. I was thirteen and a friend of mine, who came from a very religious family and wasn't supposed to be reading them, introduced me to romance.
But...it wasn't until I read my first full-length romance novel,
The Flame and the Flower,
that I fell in love with the genre. I named my daughter Brianna after Heather Brianna in that story.
Yes, she knows.
Q ~ Why did you choose to write regency romance as your primary genre?
I suppose Barbara Cartland's early influence must have predisposition me toward Regencies. I love the whole nobility, peerage, haut ton business.
Q ~ How did you begin writing? Was there a single catalyst or a series of events?
I had just finished up my Master's Degree in Teaching when my youngest graduated from high school. He headed off to college, and though I was substituting part time, I had time on my hands.
I decided if I was ever going to write a book, now was the time.
I had a scene floating around in my head, and in February 2011, I sat down to see if I could write an entire book around that scene. I did, and the book became
Highlander's Hope
.
Q ~ Do you have any writing rituals that you follow? What is your go-to snack while writing?
I don't have any real rituals except to have a bottle of water nearby, and I usually have Ayva, my chiweenie on my lap when I start my writing day. I write best in my writing room, where I have everything I need within my grasp, and it's quiet.
I have to have complete quiet to write.
I don't usually snack while I'm writing.
Q ~ What are your five favourite verbs to use during a love scene?
Gosh, I've never thought about it. Let's see ...
Engulfed, trailed, feathered, inhaled, and gasped!
That will change with the next book, of course!
Q ~ Do you prefer to write in a small town or big city setting? Why?
I write a lot of scenes in London, but I prefer small town settings. Most of my books have at least a partial country or village setting. Maybe that's because I've only ever lived in small towns myself.
Q ~ When you write, do you lay out a solid outline before beginning, or start writing and iron out the kinks later?
My writing has changed over time. In the beginning, I plopped myself in front of the computer and just started typing.
Now I complete a character questionnaire for my H/h, a conflict/motivation/and goal chart for each, and a general summary of where I think I want the story to go.
That includes major plot points, but I'm also very much a pantser. If the story takes a turn I didn't see coming, I go with it.
Q ~ Can you tell us a little bit about your latest release, Schemes Gone Amiss, and what inspired you to write it?
Schemes Gone Amiss
is the second book in my Conundrums of the Misses Culpepper series.
I've been quite horrid to the five Miss Culpeppers. I gave them all first names beginning with the letter B.
I wanted to write a series that showed the close relationship between multiple sisters and cousins. Blythe, the heroine in
Schemes Gone Amiss
, clashed with Lord Leventhorpe the moment they met.
They had to have their own story.
Q ~ What is your favourite part or scene in the novel?
I love the epilogue. It's my chance to give the reader a peek into the hero and heroine's happily-ever-after and perhaps tease them with a little something they can look forward to.
Q ~ Have you written an outline for the Conundrums of the Misses Culpepper series or do you make it up as you go? What about the Highland Heather Romancing a Scot series?
I do not have an outline for either of the series, though for
Schemes Gone Amiss
, I did create an outline of sorts.
I've done that with all the books in the
Conundrums of the Misses Culpepper
series and the
Highland Heather Romancing a Scot
series. I'm currently working on the fourth book in the
Highland Heather
series, and I created an entire beat sheet this time.
I've strayed from it a bit already. We'll see where I end up!
Q ~ What is your process for choosing character names?
If the character has been mentioned in a previous book, naturally I cannot change their given or surname, but I try to find middle names that I think represent them or their background.
My main characters always have at least two middle names.
I research names common for the time period, and I like names that aren't either very common or very unusual. Well, to be fair, I occasionally come up with a name just to satisfy my sense of humor.
Lady Clutterbuck, a notorious gossip, is one example. I also have a cook named Mrs. Plumperbuns.
Q ~ What characters did you find yourself especially drawn to and why?
I like my later characters better than my first, with the exception of the Duke of Harcourt. I think the reason is I've learned to truly develop my characters now, so they almost feel like real people.
Q ~ Do you have anything in the works at the moment? Care to give us a hint about it?
I'm working on
Scandal's Pleasure
, the fourth book in my Highland Heather Romancing a Scot series. It's the story of Seonaid Ferguson and Jacques Devaux-Rousset.
I think readers are going to be very surprised by these two characters. Seonaid (pronounced Shawn-nuh) has been around since my first book,
Highlander's Hope
and she's made appearance in several other books. Jacques first came onto the page in Triumph and Treasure, and the man readers saw then is really quite different than the real Jacques.
Q ~ If you could give aspiring authors one piece of advice, what would it be?
Never stop learning and don't give up.
You have to write because it's what fulfills you. The rest is just a bonus.
About the author:
COLLETTE CAMERON is a best-selling and award-winning Historical Romance Author of Scottish and Regency Romances featuring rogues, rapscallions, rakes, and the intrepid damsels who reform them. Mother to three and self-proclaimed Cadbury chocoholic, she's crazy about dachshunds, cobalt blue, and makes her home in Oregon with her husband and five mini-dachshunds. You'll always find animals, quirky—sometimes naughty—humor, and a dash of inspiration in her novels.
Her award-winning
Castle Brides
Series,
Highland Heather Romancing a Scot Series
,
Conundrums of the Misses Culpepper
Series, and
A Waltz with a Rogue
Novellas, as well as her other books, are all available on Amazon.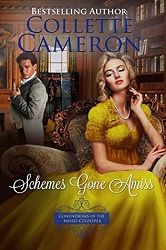 About Schemes Gone Amiss:
Intrepid and outspoken, Blythe Culpepper is dragged against her will to London for a Season. To her dismay, her guardian enlists the devilishly attractive Lord Leventhorpe, the one man she detests, to assist with her Come Out. Since their first encounter, hostile looks and cutting retorts have abounded whenever they meet, yet she cannot deny the way her body reacts when he's near. So perhaps it's no surprise that upon overhearing another woman scheming to entrap Tristan into marriage, Blythe risks all to warn him.
Haunted by childhood trauma, Tristan, the austere and controlled Marquis of Leventhorpe, usually avoids social gatherings. So why, against his better judgement, does he agree to aid his closet friend in presenting the Culpeppers to the ton? Might it be because one Culpepper stirs more than his interest? Blythe taxes him to his limits with her sharp wit and even sharper tongue. Yet, he cannot deny the beauty fascinates him.
However, when an old enemy comes calling, using Blythe to settle old scores, Tristan must decide if protecting his honor is more important than winning the heart of the woman he has come to love.