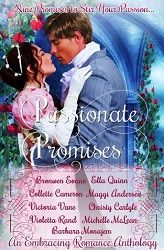 Title:
Passionate Promises
Series:
Embracing Romance #1
Author:
Victoria Vane, Bronwen Evans, Ella Quinn, Collette Cameron, Maggi Andersen, Michelle McLean, Violetta Rand, Barbara Monajem, Christy Carlyle
Publication Date:
February 14/16 by Vane Publishing LLC
Length:
1100pgs
Genre:
historical romance
Shelf:
review
Rating: ★★★★★
Back Cover Blurb:
Nine Promises to Stir Your Passions from award-winning, bestselling authors.
Enter the dazzling world of brawny Vikings, Regency rogues, and sexy scoundrels as they take you on one romantic journey after the other in these tantalizing historical romances filled with betrayal, intrigue, and passion. Enjoy Passionate Promises enthralling romances for a limited time only.
To Challenge the Earl of Cravenswood by Bronwen Evans
A Promise of Love by Ella Quinn
A Kiss for Miss Kingsley by Collette Cameron
Stirring Passions by Maggi Andersen
A Pledge of Passion by Victoria Vane
Never Tempt a Rogue by Christy Carlyle
Wanted by the Warrior by Violetta Rand
A Highwayman's Honor by Michelle McLean
Lord Quickthorn's Bargain by Barbara Monajem
My Review:
What goes together better than history and romance? Very little, and this anthology of historical romance novellas definitely proves that point.
Each of the authors has their own way with words, creating remarkable and heartfelt stories that will make you giggle while transporting you back in time. Romance fuels the day as couples come together despite the odds (or because of them). I enjoy how each author stays true to the historical time period in which they write but also flaunts convention. It made for some very interesting tales.
This is one of those fantastic anthologies that is just as enticing in its separate parts as it is to read from cover to cover. It's a must read for all those who enjoy a historical romance and for those looking for some quick reads to dip their toes into the genre.
Book Links