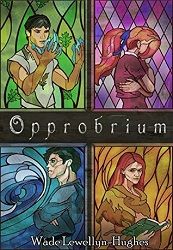 Title:
Opprobrium
Series:
The Lamentation's End Series # 1
Author: Wade Lewellyn-Hughes
Publication Date: June 4/15
Length: 618pgs
Genre: NA Fantasy
Shelf: review
Rating: ★★★★

Back Cover Blurb:
On the island of Merith, the Hansweighn holiday will begin at sundown. The people will feast in honor of the Chancellor's victory over the magical races of Shallyghal. Unbeknownst to all, this Hansweighn brings a surprise: a vile peril has breached Merith's Great Barrier and will soon enjoy its own dark feast.
As the sun nears the horizon, adult cadets enter a test designed to remove the less devout prior to ascension into the Chancellor's Army. Cord Sullivan worries it will reveal his curse, the magic hiding in his bones, a trait worthy of a fiery execution.
Meanwhile, Rorry te Gwirion, a young noblewoman, plans to use the distractions of the holiday to escape Merith and a blackmail-enforced engagement. Only on the continent can she find her sister, whom her father sold into slavery. She and Kylan Nock, a young man interested in the wilder pursuits the seas have to offer—and perhaps a handsome dockhand or two, hope to convince their friend Scarlett Hywel to come along. Scarlett's innate magic might unlock the secrets of Shallyghal, easing their flight to the continent.
As demonic invaders and their cursed wolfkin rip across the heart of Merith and through its people, the young ones will need help to survive. But, who can they trust? A band of foreign mercenaries comprised of a flirt, a half-ogre cook, two Ukrestian monks, and a peculiar sorcerer? Or their mysterious prisoner?
Discovering secrets of elves, dwarves, satyrs, and piks in the shadows, they learn why it is imperative to the entire world of Cyr that they reach the continent.
My Review:
Lewellyn launches this new series with a flair yet subtlety that does the fantasy genre proud. The plot was well thought out and presented, drawing me into this vivid world. Picturesque descriptions paint this world in shades and hues that not only allowed me to see the world, but that also heightened the intensity of the tale, drawing the suspense and action forward.
The well-developed characters carry the story well. I enjoyed how they were gradually developed yet I never found myself trying to fill in the blanks. Their intertwining storylines gave the feelings of being a part of something so much larger, yet still an individual. The intricate plot weaving really shone through in a fantastic manner.
As a whole this was an enriching start to Lewellyn's series. I fell as if I've started on a journey that I'm eager to continue.
Book Links