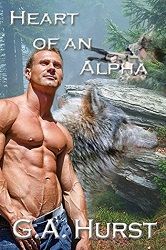 Title:
Heart of an Alpha
Series:
Wolf Shifter /1
Author:
G.A. Hurst
Publication Date:
January 13/16
Length:
242pgs
Genre:
dystopian/paranormal romance
Shelf:
review
Rating: ★★★★★
Back Cover Blurb:
Over twenty years after tectonic disaster destroyed most of humanity, life is finally beginning to reemerge. Rissa a human survivor and her team have begun to explore and find themselves attacked by armed and dangerous strangers, two of her team are taken prisoner.
Gage and his wolf shifters were out hunting the rogue bandits who were killing the few survivors brave enough to venture into this new world. Then he caught her scent, she was his mate, his wolf was certain; but her group was being attacked by the very rogues they were hunting. Can he save her from doing something foolish, like attacking the bandits armed with automatic weapons?
While preparing to make an attempt to save her friends, a huge wolf stalked up behind her and stood over her growling; then held her to the ground until the attackers left. She thought she was his dinner…she wanted to save her friends, but who would save her first?
He can save her, he can save her friends, but can he win her heart and make her his?
A man who can become a wolf…impossible, or is it? He say's she's his mate, is that why her body heats up anytime he's near? It can't be love, she's only known him for days…or can it? She can face the danger next to him, can she handle the rest?
My Review:
Action packed and romance intensive. That is how I would describe this novel.
I loved the mix of dystopian and the paranormal in this novel. Hurst is very descriptive in her world building. I felt as if I were exploring this world as a new shifter, learning alongside Rissa. This novel is full of lots of world building that sets readers up perfectly for the rest of the series. At the same time, the intense plot drew me in and kept me coming back for more. Twists and turns kept the suspense in high gear while the romance was unforgettable.
The dichotomy between a shifter's wolf half and their human half was developed thoroughly throughout the novel. Hurst's interesting viewpoint on this really shone through. The way that the wolves' telepathy works is well developed and quite interesting. The way that Hurst has her characters explain pack dynamics to newcomers allows readers to get a full sense and feel of it without halting the forward motion of the story for a long narrative diatribe.
Hurst creates the type of characters that you can't look away from, the type of individuals that you instinctively want to get closer to. I could almost feel what the characters were going through. Hurst is such a descriptive author, using all of our senses, that everything comes to life in a real way. I enjoyed the different dialects, twangs, and accents that shone through the dialogue, allowing each shifter to stand on its own.
By switching perspectives between the two main characters, I got an entire sense of what was going on in the story, both the action and the romance aspects of it. I like how Rissa's strength puts her on even footing with Gage's alpha-ness.
This is a wildly impressive debut novel by GA Hurst. With this as an indicator, I can't wait to see this career take off. She has definitely brought something new and well worth reading to the stage of both paranormal and dystopian romance.
Book Links