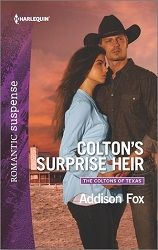 1) What's your favorite love story? Fiction or non-fiction.
You mean I have to pick just one? That is torture for an avid reader!! But if I had to pick my absolute favorite, it would be HAPPY EVER AFTER by Nora Roberts. I rarely re-read books but I think I've read this one at least ten times or so.

2) Is anything in Colton's Secret Heir based on real life experiences or purely all imagination?
While I do believe I bring my view of the world to my writing, this book was definitely outside my personal experiences. The hero is the child of a serial killer and the heroine grew up in foster care. They are characters I admire deeply and I was absolutely fascinated to explore how their childhoods would affect their adult relationships, but the story is pure imagination.

3) You get a brilliant phrase/idea/thought at an inappropriate time (while driving, drifting off to sleep/in the shower). What do you do?
Drifting off to sleep it gets plopped into the notes on my phone. For driving or taking a shower I just try to repeat it over and over to myself until I'm in a place to jot it down!!

4) What's your favorite line from any movie?
It's especially poignant as we just lost such an amazing talent, but the line in the final Harry Potter movie, with Alan Rickman playing Snape.

"Always."

5) If you were to create a slogan for your life, what would it be?
"Try hard. Work hard. Play hard. Pray always. Love always."

6) If you could live anywhere on this planet, and take everything that you love with you, where would you choose to live? Tell us about your choice.
For me the most perfect place is always New York City. I lived there a few years ago but work opportunities had me moving again. I do miss living in the city, but am also pretty happy where I am. But the idea of having New York AND everyone I love there with me? Well, then that would be sheer perfection!

7) What was your favorite scene to write in Colton's Surprise Heir? Why?
I enjoyed writing the opening scene. Openings usually give me fits but this one just sort of flowed. We find ourselves right into the center of Ethan Colton's life and a rather sizeable bit of news is about to be dropped onto him. It was a fun, layered scene to write and I enjoyed every minute of it!

8) What did you find most useful in learning to write? What was least useful or most destructive?
There were so many useful tips and pieces of advice along the way from incredibly generous authors. Most useful of all, though, was the personal discovery I made and which I believe every writer has to find in their own time. You have to move from thinking of your writing as something you'll find time to do and instead look at it as something you make time to do. Writing is my profession and when I shifted and looked at it that way – as something I take time to do actively in my life – things began to change. That's when the real magic began for me.

The least useful – the idea that you can learn something from everyone's process. It's okay to realize that sometimes what you learned is that it's absolutely NOT for you and move on. Collaging was that for me. I thought I needed to find pictures and make boards and scrap books and I wanted to gouge my eyes out. I simply don't write that way.

9) What are five words that describe your writing process?
Focused. Immersive. Personal. Private. Happy-making.

10) What are you working on now? What is your next project?
I'm currently working on my first Nocturne novella. It's a 2-in-1 with Karen Whiddon that comes out in November. The title is TBD but we've connected the stories. I am having a blast collaborating with her on the world we're creating and am excited to see what readers think about the book!
About the author:
ADDISON FOX can't remember a time when words weren't part of her life. An avid reader, her love of the written word started at the tender age of one with The Owl and the Pussycat by Edward Lear (a poem she could recite by heart to any family member who would listen.) Dr. Seuss, C.S. Lewis, Judy Blume and a host of others quickly followed until she discovered THE CLAN OF THE CAVE BEAR by Jean M. Auel while writing a paper at the library in the seventh grade. Although not a classic romance, Ayla and Jondalar's love story moved her firmly into the romance section and she hasn't looked back!
Addison writes paranormal and contemporary romance for NAL, category-length romantic suspense for Harlequin Romantic Suspense and category-length contemporary romance for Entangled Indulgence. Addison lives in Dallas. She loves to get email from readers.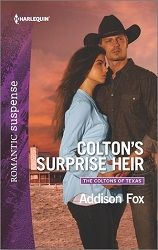 Title:
Colton's Surprise Heir
Series:
Coltons of Texas #2
Author:
Addison Fox
Publication Date:
February 9/16 by Harlequin
Length:
288pgs
Genre:
romantic suspense
Shelf:
review
Rating: ★★★★
Back Cover Blurb:
In the second book of The Coltons of Texas series, a brooding cowboy tracks the stalker after his true love—and unborn child
With an imprisoned serial killer for a father, rancher Ethan Colton never planned on continuing the tainted family name. But six months after a night of passion with a woman from his past, Ethan discovers he's about to be a dad. Beautiful, independent Lizzie Conner turns up at his Texas ranch expecting nothing but protection from the guarded cowboy. A stalker is fast on her trail, leaving creepy gifts and notes threatening her and the baby. Now all that matters to Ethan is keeping his unexpected family safe—and out of a killer's clutches.
My Review:
Once again Fox has created a novel that had me hooked on the suspense and rooting for the loveable characters that she's created. The tightly woven plot kept me guessing throughout. The insightful analysis within the novel adds an extra deep chilling feeling to the entire tale. The dual lines of suspense running through the plot were captivatingly haunting. . I also enjoyed the way that the relationship between the main characters developed. The history between them was tempered by the true friendship that we see today.
Ethan and Lizzie's similar yet completely different pasts made them interesting to get to know and very different from the vast array of romance couples out there. I loved Lizzie's strength and caring, even in the face of utter terror. Ethan's mood swings and bouts of indecision were well explained and easy to understand, yet at the same time, they were so bountiful that after a while I found them hard to swallow. When he finally came into his own I nearly cheered.
This novel combined the fast pace of a romantic suspense with the hopefulness of a contemporary romance. It was a fantastic mix that I wouldn't hesitate to recommend to others who enjoy the genre.
Book Links