Title:
One Texas Cowboy Too Many
Series:
Burnt Boot, Texas #3
Author:
Carolyn Brown
Publication Date:
March 1/16 by Sourcebooks Casablanca
Length:
352pgs
Genre:
contemporary romance
Shelf:
review
Rating: ★★★★
Back Cover Blurb:
Carolyn Brown's New York Times and USA Today bestselling cowboys prove that love is bigger in Burnt Boot, Texas
She's got too many cowboys on her hands
Leah Brennan has always been the good girl of the Brennan family, groomed to become the matriarch of the clan. When a dark-eyed, tattooed, ponytailed bad boy saunters into her life, Leah knows he's off-limits—but his mesmerizing gaze makes her forget everything she used to think was important. As town-wide tension rises, Leah wonders if love really can conquer all…
And the whole town's taking sides

When Rhett O'Donnell roars into Burnt Boot on a hot July evening, the first thing he sees is a beautiful blonde. She puts a little extra giddy-up in his heartbeat, but when Rhett's desire throws him into the middle of a love triangle and a hundred-year-old feud, he realizes that winning his cowgirl's heart will be a lot more complicated than he thought.
My Review:
Brown returns to Burnt Boot, Texas with her readers in a story that was both comically light and emotionally hard hitting. She brings the setting to life with picturesque yet extremely vivid descriptions that allowed me to walk through these ranches alongside the characters. All the while, Brown tells a complex yet easily enjoyable tale about love, family, and all of the headaches that go with it.
The feud between these two families was absolutely hilarious. It was so blown out of proportion that I couldn't help but laugh at it. That said, because of it there were also some characters that I absolutely couldn't stand.
Nothing topped Leah & Rhett in this story however. As easy as it was for them to come together as individuals, the sheer number of things that they were battling was astounding. Not only was the relationship between them fantastic, but as individuals they were the type of people that you really want to read about. I enjoyed the fact that above all they both stayed true to themselves.
This novel was a great addition to Brown's Burnt Boot series. It was a fun read with that hint of emotion that makes the romance shine all the more brightly. It is best read as part of this series, but can also be easily read as a standalone.
Book Links
About the author:

NY Times and USA Today Bestselling author and RITA Finalist, Carolyn Brown, has published more than seventy books. She has written historical single title, historical series, contemporary series and single titles, cowboy romance and women's fiction. These days she is concentrating on her two loves: romantic women's fiction and cowboy romance. She and her husband, a retired English teacher, make their home in southern Oklahoma. They have three grown children and enough grandchildren to keep them young. When she's not writing she likes to spend time in her back yard with her two cats, Boots Randolph Terminator Outlaw and Chester Fat Boy, and watch them protect the yard from vicious critters like field mice, crickets and spiders.
And now, follow the flow chart to find your perfect cowboy date.
I got Sawyer O'Donnell. Comment below & let us know who you got.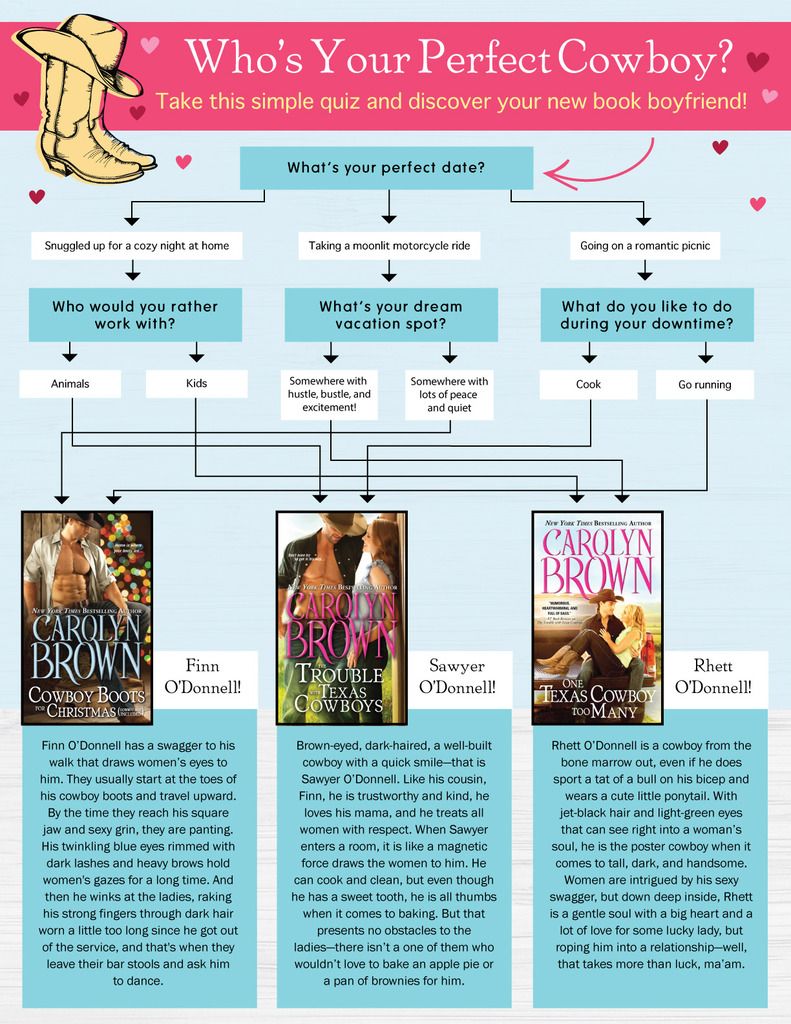 And now, enter to win in this fantastic tour wide giveaway!