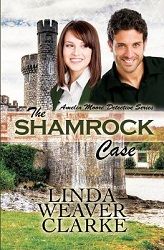 Title:
The Shamrock Case
Series:
Amelia Moore Detective /2
Author:
Linda Weaver Clarke
Narrator: Diane Lehman
Publication Date: May 5/14
Length: 212pgs
Genre: mystery
Shelf: review
Rating: ★★★★

Back Cover Blurb:
A COZY MYSTERY: Amelia Moore, the founder of the Moore Detective Agency, specializes in missing persons. With the help of Rick Bonito, her new partner, her business is flourishing. When Amelia is hired to search for her client's grandparents, the case takes them to Ireland. Kate must learn about her heritage. Who are her grandparents and could they still be alive after all these years? Why did her parents leave Ireland suddenly and move to America? Is there more to this case than meets the eye?
My Review:
Clarke brings the lushness of Ireland to life through her intricate descriptions and wonderful storytelling. This picturesque backdrop is the perfect setting for Clarke`s warm and captivating tale. The characters were enchanting, and the plot held me captive throughout. I throughout enjoyed getting into this mystery. It was loads of fun unravelling it all. At the same time, Clarke made me feel as if I were part of it all.
I thoroughly enjoyed how often these characters ate and what they had. It made this working vacation so real for me. It's also so intrinsic to who these two are. Amelia`s constant penchant for Rick`s appetite was so cute. I also love the depths and hidden aspects of Rick's character. He was so much more than I'd originally thought he would be. I couldn`t get enough of him.
As far as narrators go, Lehman was a fantastic choice for this novel (and series). She really brings the characters to life. I've enjoyed each novel I've heard her narrate, but she really blew this one out of the park.
This novel was even more fun than its predecessor. I can't wait to head off to Mexico with these two!
Book Links