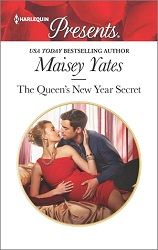 1) What inspired you to explore the subject or theme of your book?
I've never written a book about a married couple before, and I was really inspired to explore the marriage of convenience that didn't turn to love quite as quickly as you often see in romance novels. Five years in, and Kairos and Tabitha have a lot of unexplored feelings and a LOT of anger.
2) What punctuation mark best describes your personality?
Why? Is an emoji considered punctuation these days? Because that opens up a lot more possibilities.
3) Who is your favorite literary villain and why?
I'm going with Conrad from
Make You Mine
by Jackie Ashenden. Trust me on that.
4) You're hosting a dinner party, which five authors (dead or alive) would you invite?
Well, I would have to say I'd invite Jackie Ashenden, Nicole Helm, Megan Crane and Jane Porter because that just sounds fun. We would get thrown out of the restaurant though.
5) What is your favorite part of the day?
I'm starting to enjoy weekday mornings. We get the kids up and out to school and then it's just quiet time. Coffee, candles, and some time to get oriented to the day.
6) What are five words that describe your writing process?
Caffeinated, frantic, organic, character-driven.
7) Is anything in The Queen's New Year Secret based on real life experiences or purely all imagination?
I think there are always elements of real life in fiction. No matter how high fantasy a story is, for me, the emotions are rooted in reality. For Kairos and Tabitha I was thinking a lot about marriage, and about communication. And about the choices we make in life to move past things – big and small – because clinging to them doesn't benefit us.
8) What did you find most useful in learning to write? What was least useful or most destructive?
I took creative writing in college and mostly learned there that taking yourself too seriously keeps books from getting finished. So that class wasn't useful in the way it wanted to be! I've definitely learned a lot of craft and that's been invaluable, but the key thing for me was to learn to just write, FINISH the manuscript, and then write another book.
9) Which would you rather do: Never write another story or never read another book?
I'd have to go with never reading (this is awful, by the way) only because I know if I read but never wrote but head would be so full of ideas it would be torture.
10) What do you love about writing for Harlequin Presents?
I love the fairy tale quality of the stories, rooted in deep, real emotion. I love writing about a king and queen who, like everyone else, need love, and need to learn how to forgive and let down their guards. I think that's one thing that makes powerful heroes so compelling: He has everything, but still, without her and without love, it's nothing.
About the author:
USA Today Bestselling author Maisey Yates lives in rural Oregon with her three children and her husband, whose chiseled jaw and arresting features continue to make her swoon. She feels the epic trek she takes several times a day from her office to her coffee maker is a true example of her pioneer spirit.
In 2009, at the age of twenty-three Maisey sold her first book. Since then it's been a whirlwind of sexy alpha males and happily ever afters, and she wouldn't have it any other way. Maisey divides her writing time between dark, passionate category romances set just about everywhere on earth and light sexy contemporary romances set practically in her back yard.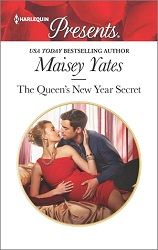 Title:
The Queen's New Year Secret
Series:
Princes of Petras #2
Author:
Maisey Yates
Publication Date:
December 15/15 by Harlequin
Length:
192pgs
Genre:
contemporary romance
Shelf:
review
Rating: ★★★★
Back Cover Blurb:
Kidnapped by her king!
As the clock strikes twelve on New Year's Eve, the fairy tale is over for all of Petras when Queen Tabitha—refusing to live in a loveless marriage—asks her husband for a divorce. But anger erupts into passion, and when Tabitha flees the palace she's carrying King Kairos's heir!
Discovering her secret, Kairos kidnaps his wife. Against the backdrop of his secluded island paradise, he proves there's no escaping his royal reach. He will use the desire that's gone unsated between them for too long to ensure his wife returns to his side.
My Review:
Yates weaves a story that combines emotion and real people in a way that made me feel as if I were experiencing it. The intricate plot combines the good and the bad of relationships to create something seamless. I enjoyed how all sorts of emotions shine through in this story. The turbulence of the relationship was a whole lot of fun to get into. It was both revealing and intriguing. The characters themselves were also fantastic. Their larger than life lives combined with their everyday problems to create individuals that I could relate to and also wanted to be.
I enjoyed the fact that this story was both sweet and hot, romantic yet real. It was a great read from an author who never fails to please.
Book Links