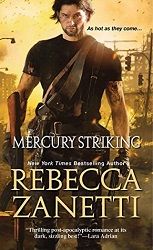 Title:
Mercury Striking
Series:
The Scorpius Syndrome #1
Author:
Rebecca Zanetti
Publication Date:
January 26/16 by Zebra
Length:
384pgs
Genre:
dystopian romance
Shelf:
Netgalley
Rating: ★★★★★
Back Cover Blurb:
With nothing but rumors to lead her, Lynne Harmony has trekked across a nightmare landscape to find one man—a mysterious, damaged legend who protects the weak and leads the strong. He's more than muscle and firepower—and in post-plague L.A., he's her only hope. As the one woman who could cure the disease, Lynne is the single most volatile—and vulnerable—creature in this new and ruthless world. But face to face with Jax Mercury…
Danger has never looked quite so delicious…
My Review:
Zanetti has created a tale so plausible that it gave me chills. The possibilities behind the dystopian world that she has created are endless. The world itself was vivid and well crafted. I appreciated how it was developed in the present with an intricate history. The action intensive plot was also exciting. Zanetti kept me hooked so that I couldn't put it down.
The hidden depths to the characters were fantastic. Each time that a new layer was revealed I felt closer to them. Jax's caring despite the odds, fighting for those around him was a poignant counterpoint to him being the ultimate warrior. He is constantly an alpha in all ways. Lynne's strength and intellect made her stand out in this novel while also making her a very intriguing individual. Not only were these two fantastic on their own, but the well-developed supporting cast of characters that Zanetti has created made a very interesting world to get lost in. There were so many individuals that I thoroughly enjoyed and can't wait to meet again in the next novel.
This is a dystopian tale like no other. It is definitely a series that I will be following to the very end.
Book Links