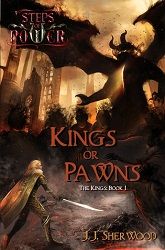 Character Interview with Sellemar
Name of Character:
Sellemar
Book Title:
Kings or Pawns
(Steps of Power: The Kings Book I)
Age:
I believe that is
my
business.
Profession:
Mercenary.
Location:
Ryekarayn today. Sevrigel tomorrow. And in a century or two, wherever Sel'ari beckons me.
With us today we have Sellemar of the high fantasy novel Kings or Pawns by J.J. Sherwood. Sellemar is an elven mercenary from the human country of Ryekarayn who entered the story through quite a dramatic feat of heroics.

Thank you for joining me, Sellemar! I heard a little behind-the-scenes information from J.J. that you were originally supposed to play a rather small role in Kings or Pawns, but you are now one of the main characters. Can you tell me a little about how that changed?
Yes, that's true. However, the other characters were simply so incompetent that I was forced to intervene on a larger scale. My companion Itirel and I have long had an agreement that we would refrain from involving ourselves in the affairs and problems of the country, but when you're surrounded by such incompetence it cannot be helped. My skills and experience are necessary.
Well I'm sure we're all very pleased to see more of you. But even after your expanded role you are not the main character in the series. That would be General Jikun Taemrin, the Darivalian leader of Sevrigel's army. Tell me, what is your opinion of General Jikun?
The reason General Jikun makes such an excellent main character is because he is full of faults. Readers want to see a character grow or the story would be stagnant. Jikun, let me assure you, has plenty of room to develop. I, contrarily, am already at the pinnacle of my character. But because Jikun serves such a different necessity in the story, I cannot be overly critical. So: he serves his purpose. I have my doubts, but Captain Navon claims that beneath Jikun's façade of asinine qualities, he's an admirable individual. I dare say: prove it.
It seems rather hard to get a glowing recommendation from you! Well then what about the other main character of Kings or Pawns, Hairem? Sevrigel has recently had an upheaval with the death of the old king and the succession of his son, now King Hairem. How do you think Hairem is handling his new position? Is there anything you would do differently?
Is there anything I would do differently? By Sel'ari, where do I begin?—That was a rhetorical question, of course. The answer is with Elvorium's Council of Elves, which both Hairem and his late father have been entirely too lax with. The council has been a force of greed and corruption throughout Sevrigel for centuries. Were I king, every member would be promptly removed. Legally, of course.
Now I'd like to ask some personal questions about you. Do you have any pets?
Yes. I recently acquired a cat, Tilowen, to deal with the unfortunate rodent problem in my estate. She is, however, a rather demonic feline and can scarcely be considered a "pet." She entirely lacks companionable qualities. …But she has purged my home of mice and warms my feet at night, so I suppose she earns her keep.
She sounds lovely. Next, who, living or dead, do you admire the most? Excluding deities, of course.
That is a difficult choice between the hero of The Last War, Eraydon, and my companion, Itirel. Eraydon… well, everyone admires Eraydon. But I find the status of his birth and rise to heroism the true traits worthy of admiration: hard work, honor, honesty, justice. And Itirel… the male has the patience of a god. And, as I can be rather short of temper myself, it is a trait I will never have. Thus I envy, at times, his disposition in the face of trials.
From what I've heard, you're a rather talented individual with the spear. Other than that, if you could choose any talent, what would it be?
I would possess magic. Honestly, any magic would do. But if I had to be specific, I would want the spectrum of abilities of a talented healer—including the ability to increase my endurance. It would enhance my already elite skills and prevent me from tiring for long periods of time. …And, I suppose would allow me to heal myself on the very slight chance that I were injured on a mission.
What is one thing that very few people know about you?
If there is something few people know about me, there is a probably a reason for such limited knowledge.
To close out the interview, do you have any advice for the characters in the next book?
Be vigilant. Sevrigel now finds herself in an even more precarious position than when the series began. And while action is required of every male and female in the land, caution must be exercised until it is the time to strike.
About the author:
J.J. Sherwood lives in Ohio with her husband and four near-identical cats. KINGS OR PAWNS is J.J.'s widely anticipated debut novel, and is the first book of The Kings quartet. The series is set in the high fantasy world of Aersadore, home to hundreds of characters who all clamor for J.J.'s attention. To learn more about the trials and tribulations of General Jikun and King Hairem, visit
StepsofPower.com
. J.J. Sherwood will be at the tenth Fandom Fest Comic Con in Louisville, Kentucky this coming August 7th-9th.
​Connect with the author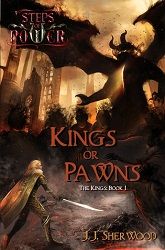 Title:
Kings or Pawns
Series:
Steps of Power, #1; The Kings, #1
Author: J.J. Sherwood
Publication Date: October 1st 2015 by Silver Helm
Length: 383pgs
Genre: fantasy
Shelf: review
Rating: ★★★★★

Back Cover Blurb:
The first book in JJ Sherwood's Steps of Power epic fantasy series. The Kings, Book I: Kings or Pawns is a political intrigue that spirals into an action and adventure series as the final events unfold.
8,994 P.E.-The elven city of Elvorium has become corrupted to the core by politics. With his father dead and The Royal Schism at his back, Prince Hairem becomes the king of the elven world on Sevrigel. Young and daring, Hairem is determined to undo the council's power, but quickly finds his loyal council members brutally murdered by an assassin loosed within the city.
As corruption and death threaten to tear the city apart from within, the warlord Saebellus threatens the city from without, laying siege to Sevrigel's eastern capital. With the elven world crumbling around him, Hairem finds himself in a dangerous political balance between peace and all out war.
My Review:
This is world building (and character development) at its finest. Sherwood has woven together an intricate setting for her series to take place, including everything from the smallest to largest details, from religion to politics to everyday life. Woven throughout this creatively inspired, wonderfully imaginative world is a plot that kept me completely hooked. I loved how I was so immersed in this story, becoming part of it throughout.
Not only are Sherwood's characters amazingly well developed, they are also wildly realistic in their imperfections. They were fun to get to know and easy to connect with. The way that I felt as if I knew them personally added to the appeal. At the same time, the way that they could simultaneously annoy and enchant me kept me coming back for more.
This is a fantastic novel with an exciting plot and strong characters. It's a fantasy novel well worth reading, starting a series that has me completely intrigued.
Book Links
Enter this fantastic tour wide giveaway!