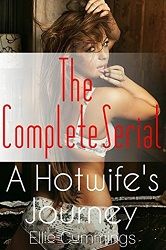 Title:
A Hotwife's Journey, the Complete Seria
Author:
Ellie Cummings
Publication Date:
September 24/15
Length:
467pgs
Genre:
erotic romance
Shelf:
review
Rating: ★★
Back Cover Blurb:
"I think I want to do it," Jennifer tells her husband. "I think I want to become a hotwife."

Jennifer and Blake Simmons are a young married couple living in Toronto. They've been together for two years now, and already things are starting to look bleak. They're both bored with their marriage, and they'd give anything to get that spark back — even if it means going against the morals that they both grew up with.

Enter Haley and Desmond Belanger: a French couple who actively participate in a lifestyle that neither Jennifer nor Blake have even heard of. But after meeting at a party and going back to their place, Jennifer and Blake decide to try it on for size. And much to their surprise, they like how it fits.

Now their eyes have been opened, and this couple has decided to embark on a journey that will introduce violence, infidelity, and an unexpected little package into their lives. In just shy of a year Jennifer, Blake, and everyone around them will be changed completely — but whether for the good or not remains to be seen.
My Review:
Ok, so this is one of those stories that I'm definitely on the bench about. On the one side, it was hot, kinky, and racy. I quite enjoyed Cummings' writing style. On the other side, I didn't like how the characters were forcing themselves to do things that they didn't want to do , even if it did all turn out well in the end. I also found the characters hard to connect with. Their personalities turned me off more than once. The manner in which the female protagonist treated those around her was that of a spoiled child, while the male protagonist just took it all without pushing back.
So, all in all, this was a well written piece of erotic romance but I found that the storyline itself wasn't quite one that I could get into.
Book Links