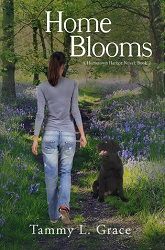 Title:
Home Blooms
Series:
Hometown Harbor #2
Author:
Tammy L. Grace
Publication Date:
April 29/14 by Lone Mountain Press
Length:
318pgs
Genre:
contemporary romance
Shelf:
review
Rating: ★★★
Back Cover Blurb:
Return to the picturesque island community where you'll check in with your old friends and meet a few new ones along the way.
Linda is knee deep in bouquets and boutonnieres, designing a beautiful ceremony for her friends. The bride's matchmaking plot takes shape as she volunteers her best friend, Max, to help Linda create the perfect wedding.
Linda and Max are thrown together when a tragedy threatens to destroy the honeymooners' newfound happiness before they have the possibility of a life together. Compelled to make some changes in life, Linda uncovers a family secret that causes her to question her existence and leads her on a search for the truth.
As Max begins to penetrate the protective walls around Linda's heart, a visit from her youth causes her to risk it all. While struggling between the past and the future, Linda has a chance to let more than her flowers bloom.
My Review:
Grace brings this small town to life in a way that allows readers to picture it. She creates a peaceful backdrop for her continuation of the first novel in the series. Although I did enjoy the plot I found that the storyline dragged a bit at times. Don't get me wrong, I love detail in a novel, but the extraneous details slowed down the plot of the story, creating some lags that pulled me out of the plot more than a few times.
Grace's character driven plot really shines through. By getting to know the characters, their personalities, and their lives allowed me to feel as if I were part of their lives for a while.
Overall, this was an interesting, enjoyable read that brings Grace's small town to life in a big way.
Book Links