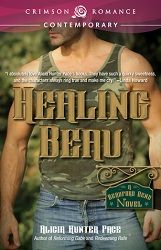 Title:
Healing Beau
Series:
Beauford Bend
Author:
Alicia Hunter Pace
Publication Date:
December 21/15 by Crimson Romance
Length:
220pgs
Genre:
contemporary romance
Shelf:
review
Rating: ★★★★★
Back Cover Blurb:
Handsome and accomplished Ranger SGT Beau Beauford knows that deep down he's never been anything but a screw-up. He caused the deaths of his parents and sister, deceived his adoring brothers, and recklessly destroyed his career. With nothing left to lose, he retreats home to Beauford Bend … only to promptly impregnate his best and oldest friend.
Christian Hambrick, owner of Firefly Hall Plantation B&B, is made of guts, steel, and plain good sense, except for that lifelong torch she's held for Beau. When he reached out to her, clearly in need, she gave him everything.
Now Beau insists on marriage, but he's withholding his heart, insisting it's not worth much anyway. However, Christian isn't settling for second best—not for herself or Beau. If she has to take on the whole Beauford family and wage full-scale war on Beau's past to prove him wrong, so be it.
Don't miss this satisfying and emotional conclusion to the Beauford Bend series!
My Review:
This might just be the best Beauford Bend novel yet! It was a tearjerker from the 1st chapter to the last. Pace definitely had me in tears more than once. The emotional tale was not only romantic and thought provoking, but also some good old fashioned fun. Pace's writing style and the turns of phrase that she uses never fail to make me giggle. The novel is full of pop culture references that set the time of the tale. I could really picture what was going on around the characters.
I love how Pace develops Beau so fully here. He was a character pretty much only mentioned in passing in past novels, the brother who left to follow his own path. Throughout this novel Pace develops every aspect of his character, making him the perfect hero in the most unlikeliest of ways. Countered by his lovely, martyr-like heroine I found myself rooting for this couple every step of the way. By surrounding them with the rest of the Beauford men and their wives Pace created something magical.
Once again Pace has created a work full of romance and chemistry while also keeping me captivated with the thought provoking plot. This novel could be read on its own, but for the full impact of the tale the series should be read in order. Either way, I'd highly recommend this novel to romance lovers worldwide.
Book Links