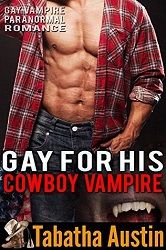 Title:
Gay for His Cowboy Vampire
Author:
Tabatha Austin
Publication Date:
November 1/15
Length:
82pgs
Genre:
m/m paranormal romance
Shelf:
review
Rating: ★★★
Back Cover Blurb:
James is slim, built, and a vampire death over his limit.
After one too many kills, the local vampire nest sends him an ultimatum.
"Work with us, or you won't see morning."
Working with a vamp isn't ideal, even if his new partner is awfully cute - and an authentic Old-West cowboy to boot.
Can a too eager vampire hunter and Old West cowboy work together to complete their mission and more?
This 18,000+ word LGBT supernatural romance contains detailed explicit descriptions of hot love making between a trim and hard vampire hunter and a Old-West vampire cowboy.

It's intended for the enjoyment of adult readers only (especially those who gay paranormal stories with cowboys and vampires).

Author Note: This is a standalone HEA/HFN gay romance with no cliffhanger.
My Review:
This was definitely a quick, steamy read with a kick. I enjoyed the premise behind the story. It would have been even better had it been fleshed out more fully. I felt as if I were getting glimpses into what was going on, yet didn't quite have the whole picture. Austin is a very descriptive writer who allowed me complete insight into what was going on throughout the novel. I found that at times the writing was a little repetitive. The author used very similar turns of phrase to say many things, sometimes within the same page.
As a whole, this was a good short story with the potential to make a great novel.
Book Links