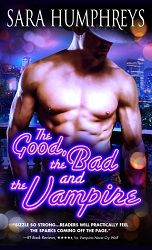 Title:
The Good, the Bad, and the Vampire
Series:
Dead in the City #4
Author:
Sara Humphreys
Publication Date:
January 5/16 by Sourcebooks Casablanca
Length:
320pgs
Genre:
paranormal romance
Shelf:
review
Rating: ★★★★
Back Cover Blurb:
Beloved author Sara Humphreys' acclaimed paranormal romance series continues with sweltering attraction between two vampires who have all the time in the world to satisfy their desires...
He wants eternity?
Dakota Shelton is a vampire cowboy with a penchant for cinnamon lollipops and Johnny Cash. Though highly skilled and deadly dangerous to his enemies, he's still a Texas good ol' boy at heart. And he has that heart set on wooing Trixie LaRoux-the most badass punk rock chick in town-the old-fashioned way.
Over her undead body...
Trixie is tough as nails and sharp as a silver stake-the last thing she wants is a man to sit on a porch and not grow old with. So it'll take going to hell and back fighting a new threat to vampires before she admits Dakota's courtship makes her blood hum. Turns out chivalry's not dead after all.
My Review:
What a fun and interesting novel that can be read on its own or as part of Humphreys' series. She returns to a world full of vampires and excitement that can capture your heart and your imagination. I enjoyed the way that suspense mingled with romance, heartfelt moments with comical ones. This was all wrapped up in a vibrant, larger than life package that was a blast to read.
The main characters were a blast. Not only were they fun on their own, but the contrast between their personalities and their ways of life was so shockingly perfect. The well-developed individuals were easy to connect with while also fitting into the story well. The subtle complexity with which they were crafted really held my attention.
Once again Humphreys has created a fun, romantic, and suspenseful novel that I truly enjoyed.
Book Links