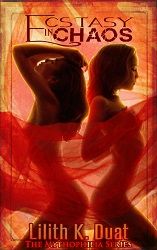 Title:
Ecstasy in Chaos
Series:
The Mythophilia series #2
Author:
Lilith K. Duat
Publication Date:
February 1/16
Genre:
erotic romance
Shelf:
review
Rating: ★★★★
Back Cover Blurb:
Ourania and Pandemos, two aspects of the same goddess, dual aspects of all love. Together, they are Aphrodite. Apart, they oversee separate parts of love - of man and of woman. Yet the love they both seek for themselves is that of the war god Ares.
Finally, the time has come to decide which of them may claim Ares and become the true goddess of all love. In a contest of lust they must one by one select scrolls with the names of gods, monsters and man to prove their power over love. The rules are in place, challenge is accepted and may the best goddess rule.
Ecstasy in Chaos is a followup to Balance in Chaos and book #2 of The Mythophilia Series. It features explicit scenes of erotica and is for mature readers only. Reader discretion advised.
My Review:
This story was steeped in mythology yet completely original. I loved how we get a look at the grittier sides of the goddesses. Their personalities really shine through, creating an epic battle of wills and powers. Duat included turns of phrase that made me giggle and wove them into this eloquent yet very steamy read. The tale was well written. Duat has an enchanting way with words.
The well-developed characters were both approachable and aloof. It was perfect for this story where gods use each other and humans as playthings in an epic battle of wills. I found that the overall premise became a bit muddied at times by the various erotic relationships, but overall it was a hot and interesting read. I appreciated how there was more going on than simply what met the eye on each page. It also really highlights the will of the gods.
This was a new to me author that I'll definitely be looking further into. Duat has done something completely original and rather remarkable in a world that brings mythology to life in a way that really highlights many aspects that tend to be overlooked by many while also creating a very hot and steamy read.
Book Links
Watch for this novel on Amazon at the above link on or after the release date