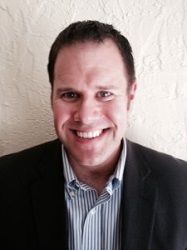 Q ~ Can you tell us a bit about yourself?
I was born and raised in Southern California. I attended college at Arizona State University. I am a practicing criminal defense attorney in South Florida. I have been married for seven years and have two boys, ages five and two.
Q ~ What do you like to do when you're not writing?
My practice keeps me very busy. Unless I'm writing or working I am spending time with my kids, working out at the gym, or trying to find the best new barbecue restaurant.
Q ~ If you could have lunch with one person, dead, alive, or imaginary, who would it be and why?
Elvis Presley. For the simple fact that I am a huge fan and have so many questions. Plus I'm pretty sure he knows some great restaurants.
Q ~ What are you currently reading?
Homeowner With A Gun
by Samuel Hawley. Great concept. There is also a lot of page-turning suspense.
Q ~ Are there any new Authors that have grasped your interest recently and why?
In the last year or so I've become a big fan of Roger Hobbs. He has written
Ghostman
and
Vanishing Games
. Both are great crime novels that are very research heavy. I like that you can be entertained while learning something at the same time.
Q ~ How did you begin writing? Was there a single catalyst or a series of events?
I always tinkered around with it as a kid, making up stories on my mother's word processor. I got serious about it in college and I'm still not sure why. I think I just had a story in my head that desperately needed to come out. It's a great feeling when that happens.
Q ~ What's the best thing that's happened since you began writing? The worst?
Publishing
The Victim
has been the best and most satisfying experience. The worst? The 65 rejections that preceded its publication.
Q ~ What are your biggest influences in life? Who are your biggest supporters?
My biggest influence in my life is my family. Taking care of them is equally an honor and responsibility. As well, my family has proven to be the biggest supporters of my work, as well as some great friends whom I have known for most of my life.
Q ~ Why did you choose to write mystery as your primary genre?
It's what I know and enjoy. Working as a prosecutor and criminal defense attorney my life is naturally full of crime and mystery. I like the idea of trying to figure out what is happening, like investigation a client's case and trying to get to the truth of the matter. It makes for great storytelling.
Q ~ Do you prefer to write in a small town or big city setting? Why?
Big city, such as Miami because a small town setting requires too much time and detail about the town itself. I feel like people are familiar enough with big cities that you can create your backdrop quickly without spending too much time on it. You have to keep the story moving. You can take a big city and weave it into the plot - Colin Harrison's
The Havana Room
is a clinic on how to do this. But for me, I can create Miami and describe it well enough that people feel like they know it. With a small town setting you have so much work to do to familiarize your readers with your backdrop.
Q ~ Can you tell us a little bit about your latest release The Victim and what inspired you to write it?
The Victim
was inspired by a story I heard about a kid I went to college with who got into a DUI crash, resulting in the loss of life. He was prosecuted and imprisoned - rightfully so - but I thought, what if you got away with it? The rest of the story sort of followed.
Q ~ What was the most difficult part of the process while writing The Victim?
The Victim
was the most seamless creative process I have ever experienced. It was literally a pleasure to write and I did not stop or hesitate for a second. I wish all stories were that easy. The most difficult part was the painstaking editing, reading each page, each word. All 141,000 of them. I don't like editing.
Q ~ What characters did you find yourself especially drawn to and why?
Jack Savarese. Experienced, confident in the courtroom. Commands respect while maintaining humility.
Q ~ Do you have anything in the works at the moment? Care to give us a hint about it?
I go back and forth with so many ideas that there is nothing set in stone at this point. But there are some things in the works and I hope to have them out in the near future.
Q ~ What advice would you give to an aspiring writer?
Write and read as much as you can. You can't develop your craft unless you work at it. Find the genre you want to write and read as many authors in that genre as you can to see what works and what doesn't. Writing is a hobby, you can do that all you want, but publishing is a business. If you want people to purchase your work then you need to understand the market. Find the best authors in your genre, read them, and find what makes them successful. Don't copy - we don't need a thousand Connellys or Pattersons out there - but see what plot devices they use that keep readers turning the pages. Then incorporate those styles into your own unique work.
About the author:
Eric Matheny was born in Los Angeles, California, where he lived until he went away to college at Arizona State University. At ASU he was president of Theta Chi Fraternity. He graduated with a degree in political science and moved to Miami, Florida, to attend law school at St. Thomas University. During his third year of law school, he interned for the Miami-Dade State Attorney's Office, where he worked as a prosecutor upon graduation. In 2009, he went into private practice as a criminal defense attorney. He is a solo practitioner representing clients in Miami-Dade County, Florida, and Broward County, Florida. He has handled everything from DUI to murder.
In his free time, Eric enjoys writing crime fiction, drawing from his experience working in the legal system. He published his debut novel
Home
in 2004, which centers around a successful drug dealer catering to the rich in Orange County. His second novel
Lockdown
, published in 2005, follows a law student trying to prove that an inmate serving a life sentence in one of California's toughest prisons might actually be innocent. Eric's latest novel The Victim, is a tense, fast-paced, legal thriller/psychological suspense novel that centers around a young defense attorney whose horrifying misdeed from his college days comes back to haunt him. It was published by Zharmae in August 2015 and is available for sale on
Amazon
.
Eric lives outside of Fort Lauderdale with his wife and two young sons.
Readers can connect with him on
Facebook
,
Twitter
, and
Goodreads
.
To learn more, go to
http://www.ericmathenybooks.com/
About The Victim:
If you are a fan of John Grisham, David Baldacci, and Harlan Coben,
The Victim
may be your kind of novel.
The Victim
is a tense, fast-paced, legal thriller/psychological suspense novel that centers around a young defense attorney whose horrifying misdeed from his college days comes back to haunt him.
Synopsis:
Anton Mackey is a man with everything. At least, he seems to be on the surface. He has a rising career as a private attorney, a lovely wife, a beautiful daughter; he and his family live in an idyllic neighborhood that most people dream about. Sure, there are troubles that plague this family, the same as any other, but all in all things are looking up. Life is good, and the future is better.
Except Anton has a past, too, and something has been looming, bearing down on him from that history, just waiting for the chance to strike. Soon, everything will change, and the life he's struggled so hard to build will come crashing down around him.
And the worst part of it all: Anton Mackey has no one to blame but himself.
Praise for The Victim:
"The Victim by Eric Matheny has a fast moving pace and a skillfully conceived plot with quite a few twists and turns… A page turner, this legal thriller has all the elements to hold reader interest from the first page to the last." - Reviewed by ReadersFavorite.com
"An astounding legal thriller that is full of surprise, mystery and moral dilemma. Matheny may well be the next Scott Turow." – Reviewed by BestThrillers.com