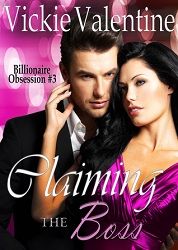 Title:
Claiming the Boss
Series:
Billionaire Obsession #3
Author:
Vickie Valentine
Publication Date:
December 10/15
Length:
56pgs
Genre:
contemporary romance serial
Shelf:
review
Rating: ★★★★★
Back Cover Blurb:
I've never tasted anything like Samantha Rayne. Gorgeous, flirty and a dream in bed, she's become my own personal brand of heroin, and I'm obsessed.
But I couldn't impress her with my wealth, and she didn't give a shit about my status. Me. Damon Baxter. Billionaire. Unable to keep the attentions of a bartender outside of the bedroom. It's about time my life had a little change.
One way or the other, I'll make her mine.
My Review:
This story is scrumptiously hot. The enticingly detailed scenes bring everything forward in a way that makes you feel as if you're really there alongside the characters. Valentine has created such real characters throughout the series. Their personalities really shine through, and I love how who they really are inside is a major part of the tale.
This was a great wrap up to Valentine's latest serial. She brings everything together while still providing a story packed full of all the steam that we've come to know and love from her.
Book Links