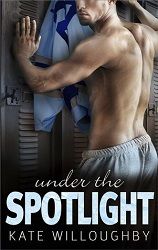 Title:
Under the Spotlight
Series:
In the Zone #4
Author:
Kate Willoughby
Publication Date:
December 14/15 by Carina Press
Length:
275pgs
Genre:
contemporary romance
Shelf:
review
Rating: ★★★★
Back Cover Blurb:
Stage actress Christine Caspary couldn't care less about hockey, but when she first sees Joe Rutherford playing in a Barracudas game her mind goes to all sorts of dirty places. By happy chance, her work with Grant A Wish gives her an opportunity to meet him in the flesh.
Right winger Joe Rutherford saw Christine perform when the team went to see Chicago and was so taken with her, he secretly saw the show a second time, alone. When the gorgeous actress with spectacular legs contacts him out of the blue asking for a favor, it's a no-brainer.
Their chemistry is off the charts. Things heat up quickly and they can't keep their hands off each other. Soon they're hooking up whenever their busy schedules allow and having hot phone sex every night at midnight when they don't. But Joe's time in the hockey spotlight is fading, just as Christine's star begins to rise. When she gets her big break into a TV career, how will Joe take to being the arm candy for a change?
My Review:
Willoughby returns to the world of hockey with a muted flair that really allows the sport to shine through. Her descriptions and narrative bring the entire story to life while also creating a fun atmosphere to get to know the characters in. Hockey rules the day, but this novel is about so much more. Romance and life in general both make their way into this remarkable tale. I enjoy the fact that the story can be read as a standalone while also adding to the series as a whole.
I enjoyed the rounded feel of the individual characters and of the cast as a whole. I found that the entire team was well represented without overshadowing the main characters. The contrast between the incoming and outgoing team members was fantastic. And the way that we get to know them in and outside of their careers gave a well-rounded feel to everything.
This was definitely a fun hockey novel that brought the sport to life. Willoughby easily combines the sport with the people who live it in a way that everyone can enjoy.
Book Links