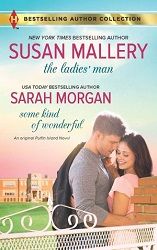 Title:
Some Kind of Wonderful
Author:
Sarah Morgan
Publication Date:
December 29/15 by Harlequin
Length:
608pgs
Genre:
contemporary romance
Shelf:
Netgalley
Rating: ★★★★
Back Cover Blurb:
USA Today bestselling author Sarah Morgan will sweep you away with her Puffin Island series! In a town where anything can happen, sometimes love can be found in the most unlikely place of all…
Her whole life, Puffin Islander Brittany Forrest has dreamed of adventure. And at the age of eighteen, she thought she'd found it in bad boy Zachary Flynn. But after just ten tempestuous, smoldering days, their whirlwind marriage went up in smoke, and Brittany resolved to put him out of her mind forever.
Zach knows he let Brittany down, but being back on Puffin Island and seeing Brittany again stirs up long-buried emotions. This daredevil pilot has never felt worthy of her, yet he can't stay away—even when he knows the chemistry between them will only complicate his life.
As long, hot summer days on the beach dissolve into sultry, starry nights, Brittany and Zach find that the sparks between them are more powerful than ever. Could it be that the second time around, their dreams of a happy-ever-after will finally come true?
My Review:
This novel was emotionally fulfilling while also being lots of fun. I really enjoyed getting to know the characters. The plot was interesting and the way that Morgan develops it was a whole lot of fun. Her vivid descriptions bring the world to life in a realistic manner that made me feel as if I were actually walking through it.
The growth in the characters was hard to miss. I love how they grew with age and experience yet remained the same people. I liked them as individuals and as a couple. Surrounded by the entire community that Morgan creates, both in this novel and in the series as a whole, you have a winning cast that truly carries this story forward.
This is a second chance romance that really works. The mix of the old and the new was a lot of fun.
Book Links