Holiday Bon Appétit and a Book with author Patricia Davids
Merry Christmas from me, Patricia Davids. If you love pecans the way I do, you'll want to enjoy this delicious holiday recipe all year round. They are called Kentucky Pecan Bars and they are YUM. Pair them with a cup of hot peppermint cocoa and you'll have a real treat to savor while you enjoy my latest book,
An Amish Noel.
Ingredients

Crust:
Nonstick cooking spray
2 cups all-purpose flour, plus more for dusting
2 tablespoons sugar
1/4 teaspoon fine salt
12 tablespoons cold unsalted butter, cut into small dice
3 to 4 tablespoons ice water

Filling:
1 2/3 cups pecans
6 ounces white chocolate, chopped
1 cup honey
2/3 cup packed light brown sugar
3 large eggs
2 tablespoons unsalted butter, melted
2 tablespoons all-purpose flour
2 tablespoons bourbon
Zest of 1 orange
1 teaspoon vanilla extract

Directions:

For the crust: Adjust the oven rack to the bottom position and preheat the oven to 400 degrees F. Coat the bottom and sides of a 9-by-13-inch baking pan with cooking spray.

In a food processor, pulse together the flour, sugar, salt and butter until the butter is pea-sized. Add water, 1 tablespoon at a time, and pulse until the dough begins to pull from the sides of the bowl. Transfer the dough to a floured surface, gather together and pat into a rectangle. Roll the dough into a 1/8-inch-thick rectangle that measures about 13 by 15 inches. Trim the rough edges and ease the dough into the prepared pan, pressing it onto the bottom and about halfway up the sides (trim the dough more on the sides as needed). Prick the dough a couple times with a fork. Cover with aluminum foil and fill with pie weights or dried beans. Bake until the dough starts to set up, about 15 minutes. Remove the weights and foil and continue to bake until the crust is just golden, about 5 minutes more. Let it cool completely.

For the filling: Meanwhile, lower the oven temperature to 350 degrees F and spread the pecans out on a baking sheet. Bake until toasted and lightly browned, 8 to 10 minutes. Let cool and then coarsely chop.

Bring a couple of inches of water to a simmer in a small saucepan. Put the white chocolate in a heat-safe bowl that sits comfortably in the saucepan without touching the water. Stir occasionally until the chocolate is melted and smooth. Spread it evenly on the crust and let it set up.

Beat the honey and brown sugar with an electric mixer until smooth. Beat in the eggs. Pour in the melted butter and continue to beat. Add the flour, bourbon, orange zest and vanilla. Sprinkle the pecans over the white chocolate and pour in the honey mixture.

Bake until the top of the filling is golden brown and the center sets up, 30 to 40 minutes. Cover and put in the refrigerator until cool. When ready to serve, cut into 36 even bars.

Recipe courtesy of Damaris Phillips, From The Food Network website.
About the author:
After her daughter left home, Pat's love of reading evolved into a serious desire to write. In 1996, she began work on her first novel. It proved to be more difficult than she expected. In researching how to write, she discovered a local writers group and soon joined both the Wichita Area Romance Authors and the national organization, Romance Writers of America. Pat credits the help of the wonderful members of both organizations with teaching her the craft of writing and giving her insight into the publishing industry.
Still, after seven years of writing and three completed manuscripts, all she had to show for her efforts was a pile of rejection letters. Then, in the summer of 2002, Pat met Deborah Raney, a fellow Kansas author, and learned about the growing inspirational romance market. It was a lightbulb over the head moment. Pat revised her third book for yet another time and the rest is history.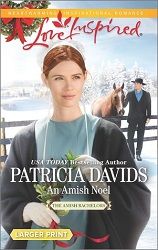 About An Amish Noel:
Luke Bowman's homecoming is turning Emma Swartzentruber's carefully ordered world upside down. Gone is her rebellious girlhood crush, and in his place is a handsome man who seems committed to serving the community. Luke's even agreed to work for Emma's ill father, whose last wish is to see his daughter wedded to a stable, loving man. But Luke - a man who flirted with the outside world with disastrous consequences - is hardly marriage material for a good Amish woman. Yet this Christmas, when her family is flung into crisis, Emma finds that he may just be the one to capture her heart for good.
Book Links