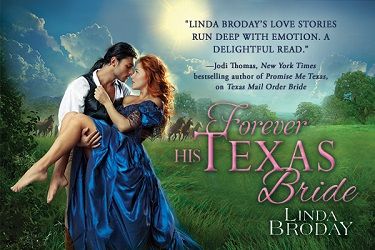 What is the Most Important Aspect About Wrapping Up a Series? by Linda Broday
I've found that ending a series is bittersweet. The best part is that it's done and I can move on to my next project that's usually already clamoring to be told. But there is such immense satisfaction of seeing a series all the way to the end.
I also feel relief. It's very difficult to get a series to hold true from the first to the last book because often I forget about a thread I added in one of the previous books that has to be carried forward and wrapped up. It's a lot like juggling plates. I have ten or twenty in the air at any given time. Forget about something and a plate crashes. The third feeling is joy. I love the giddy joy that washes over me when I write "The End" at the close of a series. I'm just so incredibly happy. All the late nights and early mornings, the missed family gatherings and dinners with friends are worth it when I hear from readers who say they've loved taking the journey with me.
But then sadness sets in. I've spent a year or more with these story people. They're like family and I hate saying goodbye. I know these fictional men and women—their hopes and dreams, their fears and heartache and pain. I care what happens to them. I've laughed and cried with them and it's hard to cut the apron strings.
My characters usually teach me a lot during a series—about life, myself and what I want. After all, they ramble around in my head while I'm sleeping and whisper advice in my ear.
Just like my readers, I fell in love with Cooper Thorne, Rand Sinclair and Brett Liberty. These brothers, bound by nothing but a desperate need for family, stole my heart. For those not familiar with the story, they come together as ragged boys in an orphanage where they suffer much abuse. One night they slip from their beds and by the light of the moon, prick their fingers and declare themselves brothers. They share a deep bond that nothing can sever and stand shoulder to shoulder, fighting to survive.
When I was young, it always broke my heart when the cowboys in the TV westerns rode away into the sunset alone, yearning for something they could never have. So I was extremely happy to give my heroes strong women to love and children. I chose unique women for each of my cowboys—not only partners but equals in every way. Delta, Callie and Rayna knew how to hold their own.
I also hated saying goodbye to Battle Creek, Texas and its quirky people. I loved lonely Granny Ketchum, John Abercrombie- the crusty mercantile owner, Jenny Barkley and her son Ben who suffered so much. The Women of Vision—the group of women who banded together to raise the town from the dead. So many wonderful men and women.
As much as I hate to leave, I must. I have three more books with a whole group of new characters to introduce to you. The new series is called Men of Legend and book 1 will release mid-2016.
But for now, enjoy Brett Liberty's special story. The half-breed finds a great love in an unlikely place—a jail cell. Rayna Harper has been arrested for picking pockets and the sheriff doesn't intend to ever release her. Brett and his brothers have something to say about that.
About the author:
At a young age, Linda Broday discovered a love for storytelling, history, and anything pertaining to the Old West. Cowboys fascinate her. There's something about Stetsons, boots, and tall rugged cowboys that get her fired up! A New York Times and USA Today bestselling author, Linda has won many awards, including the prestigious National Readers' Choice Award and the Texas Gold Award. She now resides in the panhandle of Texas on the Llano Estacado.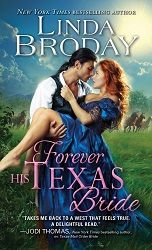 Title:
Forever His Texas Bride
Series:
Bachelors of Battle Creek #3
Author:
Linda Broday
Publication Date:
December 1/15 by Sourcebooks Casablanca
Length:
400pgs
Genre:
historical romance
Shelf:
review
Rating: ★★★★★
Back Cover Blurb:
"There's this thing between us that refuses to die. I'd like nothing better than to be able to..." His words faded. He'd give anything to change people's views about his race...to be able to make her his wife.
But the world wasn't that simple. Not for people like them.
All his life, Brett Liberty has straddled two worlds: white and Iroquois. The only place he's truly at peace is with his wild mustangs. But after he's arrested for the color of his skin, he discovers Rayna Harper in the cell next to him. Rough and tumble Rayna has known little kindness, but Brett sees the depth of her heart hidden beneath layers of hurt and fear, and he refuses to leave without her.
Something about the damaged, flame-haired beauty calls to him. Yet even as the two outcasts are drawn together, terrible danger at the hands of prejudiced men threatens to tear them apart. Brett knows in his heart he should let her go, but he's taken with the woman who looks at him as if he were just any other man...and melts in his arms as if the brush of his lips is enough to chase all her demons away...
My Review:
Broday really portrays the danger and the adventure of the time well. At the same time, she highlights the advantages and disadvantages of being different. More than once I found myself wondering how this would all end, and above all, how it could possibly end well. Broday took me on a wild ride that had me hooked every step of the way. She writes vivid action packed sequences as well as sweet, heartfelt ones. The breathtaking scenery puts the entire situation in a whole new perspective.
I'll admit, I've been waiting for Brett's story since I first met him, all the way back at the beginning of the series. He definitely didn't disappoint me here. Strong, caring, fiercely protective, he embodies the best of everything. Broday has also created a very atypical heroine for this story. I loved getting to know her. And the supporting cast also made the story intensely enjoyable. I loved seeing everyone come together and getting to know them in their unique roles.
This was a fantastic, completely unforgettable third novel in the Bachelors of Battle Creek series. I wouldn't hesitate to recommend it to anyone who enjoys a good historical romance.
Book Links
As a special treat to our readers in the United States, enter below for a chance to win a copy of Forever His Texas Bride by Linda Broday.