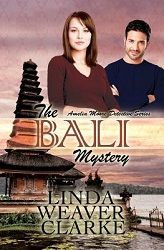 Title:
The Bali Mystery
Series:
Amelia Moore Detective #1
Author:
Linda Weaver Clarke
Publication Date:
March 29/14
Length:
224pgs
Genre:
mysery
Shelf:
review
Rating: ★★★★
Back Cover Blurb:
A COZY MYSTERY: Amelia Moore, the founder of the Moore Detective Agency, specializes in missing persons. Her cases have taken her to some interesting places and put her in some dangerous situations, but she always solves the case. With the help of Rick Bonito, her business is flourishing. When Mrs. Brody hires Amelia and Rick to find her missing brother, they find themselves in Bali, Indonesia. They are mystified why her brother quit his job, put his home up for sale, and ran off to this mysterious and exotic island without telling a soul.
My Review:
I enjoyed how Clarke developed this world visually, intellectually, and imaginatively. She gave readers a complete, 3D picture of the setting, and then allowed her intriguing story to shine through. The plot was exciting and well developed. Clarke's well written narrative drew me into the tale. Everything was well developed without giving too much away.
The main characters are fun and easy to get to know. I enjoy how we get to know them gradually throughout their adventures. It gave me a complete picture of who they were, both individually and together. Not only were they fun individuals for this story, but they were truly realistic. I loved feeling like I was getting up close and personal with them throughout.
This was a nice clean, quick read that was also stimulating and exciting. Clarke has definitely created a fun novel that has drawn me into her series.
Book Links