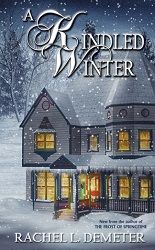 Title:
A Kindled Winter
Author:
Rachel L. Demeter
Publication Date:
November 1/15 by Black Lyon Publishing LLC.
Length:
130pgs
Genre:
contemporary romance
Shelf:
review
Rating: ★★★★
Back Cover Blurb:
"
Christmas, my child, is love in action. Every time we love, every time we give, it's Christmas.
" — Dale Evans
A week before Christmas, Jeseca Reed sets off for Blue River, Oregon—her childhood home and a vault of tender memories. However, fate takes an unexpected turn when she's left stranded in the mountains' vast, untamed wilderness. Desperate and alone, she seeks shelter at a cottage and finds herself in the arms of a mysterious stranger.
Dr. David Drake was once a renowned cardiovascular surgeon. But a devastating tragedy has left him scarred both inside and out, unable to use his hands to operate again. For the past five years, his Blue River cottage has been his sole escape—a safe haven where he can shut out the world, bury himself in his grief, and reunite with his son's memory.
Together they are summer and winter. Fire and ice. And yet a poignant connection forms between them. Jeseca awakens David and thaws his heart with a romance hot enough to melt snow. But before David and Jeseca can fully embrace each other, they must wade through darkness and confront the ghosts of their pasts …
Equal parts steamy and heartfelt,
A Kindled Winter
brings the spirit of the holidays to life with a passionate story of second chances and healing love.
My Review:
What a wonderful Christmas story. Demeter brings to life the spirit of the season in a rather remarkable way. This novella was both entertaining and emotionally hard hitting. The characters were fantastic. I loved getting to know about the pasts that the characters have lived, and the way in which their views of the future changed over the course of the tale. The melding of past, present, & future for the characters was very emotionally fulfilling.
This was a short, sweet read that definitely put me in the Christmas mood. It was well written and the plot was intricately crafted. Demeter is an author who has definitely just gone on my 'to watch' list.
Book Links
Title:
Finding Gabriel
Author:
Rachel L. Demeter
Publication Date:
August 27/15 by Momentum (Pan Macmillan)
Length:
415pgs
Genre:
Gothic romance
Shelf:
review
Rating: ★★★★★
Back Cover Blurb:
Colonel Gabriel de Laurent departed for the war intending to die.
After a decade of bloodstained battlegrounds while fighting in Napoleon's army, Gabriel returns to the streets of Paris a shattered and haunted soul. Plagued by inner demons, he swallows the barrel of his flintlock pistol and pulls the trigger.
But fate has a different plan.
Ariah Larochelle is a survivor. Orphaned at twelve and victim to a devastating crime, she has learned to keep her back to walls and to trust no one. But when she finds a gravely injured soldier washed up on the River Seine, she's moved by compassion. In spite of her reservations, she rescues him from the icy water and brings him into her home.
Now scarred inside and out, Gabriel discovers a kindred spirit in Ariah—and feelings he imagined lost forever reawaken as he observes her strength in the face of adversity. But when Ariah's own lethal secrets unfold, their new love is threatened by ancient ghosts. Can Gabriel and Ariah find hope in the wreckage of their pasts—or will the cycle of history repeat again?
Perfect for fans of Gaelen Foley's
Lord of Ice
and Judith James's
Broken Wing, Finding Gabriel
features all the dark romance, searing passion, and historical intrigue of
The Phantom of the Opera
and
Les Misérables
.
My Review:
What a story! Not only does Demeter take readers completely and fully into the past she tells a hard hitting tale that takes a look at subjects that are big news and utterly prevalent in today's society but that were apparent yet ignored at the time. The historical accuracy of the tale allowed me to immerse myself in the novel while the intimate plot kept me coming back for more. Demeter's gritty writing brought this hard hitting story out in vivid clarity. Her descriptions allowed me to feel the darkness of the time while also allowing me to experience a short while in the lives of her characters.
The characters came to life in a vivid way, the darkness surrounding them crowding in throughout. At the same time, their strength of character shone through. Seeing them rise above their situations was fantastic. That said, it never disappeared. It became part of who they were and the relationship between them.
Demeter has written a hard hitting, emotionally fulfilling novel full of historical accuracy. It was a fantastic read that I wouldn't hesitate to recommend to others. I'll also be re-reading it time and time again.
Book Links