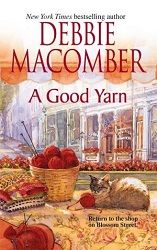 Title:
A Good Yarn
Series:
Blossom Street #2
Author:
Debbie Macomber
Publication Date:
May 1/06 by Mira Books
Length:
380pgs
Genre:
women's fiction
Shelf:
own
Rating: ★★★★★
Back Cover Blurb:
Lydia Hoffman owns the shop on Blossom Street. In the year since it opened, A Good Yarn has thrived-and so has Lydia. A lot of that is due to Brad Goetz. But when Brad's ex-wife reappears, Lydia is suddenly afraid to trust her newfound happiness.Three women join Lydia's newest class. Elise Beaumont, retired and bitterly divorced, learns that her onetime husband is reentering her life. Bethanne Hamlin is facing the fallout from a much more recent divorce. And Courtney Pulanski is a depressed and overweight teenager, whose grandmother's idea of helping her is to drag her to seniors' swim sessions-and to the knitting class at A Good Yarn.
My Review:
What a wonderfully enjoyable story. Macomber had me crying like a baby and laughing real belly laughs in turn. The intertwining tales throughout created a complex plot that kept me thoroughly captivated. It was so real and realistic. I love how Macomber can examine situations from every side without breaking the flow of the story.
Macomber doesn't simply tell you a story about her characters; she invites you into their lives through the pages of her novel. Each one came to life in a different way for me. I loved how I got to know them as individuals. The different trials that they went through brought me closer to each of them. Even if I didn't quite love them at the beginning of the novel, by the end we were fast friends.
Once again Macomber put pen to paper to create an unforgettable story of the lives of her many characters. It was a great read on its own and a fantastic addition to her series.
Book Links