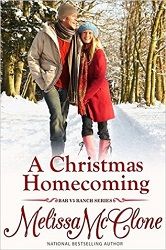 Title:
A Christmas Homecoming
Series:
Bar V's Ranch Series
Author:
Melissa McClone
Publication Date:
October 25/15 by Tule Publishing
Length:
206pgs
Genre:
contemporary romance
Shelf:
review
Rating: ★★★★
Back Cover Blurb:
A kiss is just a kiss…

Unless it's under the mistletoe.

Ellie Smith is determined to make up for Christmases past by spreading holiday cheer throughout the Bar V5 dude ranch, but tech "bah, humbug" billionaire, Josiah Whittaker, refuses to bask in the spirit of the season.

Unwilling to let the geek-to-gorgeous Josiah win, Ellie plans to give him a Christmas he'll never forget. But after a simple kiss under the mistletoe, Ellie and Josiah both start questioning everything. Can Christmas really bring the gift neither one of them were expecting: true love?
My Review:
McClone definitely brings Christmas to life with this warm and inviting novel. The story was intricately crafted and really drew me in. I enjoyed each aspect as it came together. At the same time, it was a light and easy read that I really connected with. I enjoyed getting to know the characters and becoming part of their lives for this short while. They were fun and inviting individuals that I got to know as if they were my neighbours. I found myself becoming more and more invested in their lives.
This novel was cute, sweet, funny, & heartfelt. This is definitely a Marietta Christmas that I won't soon forget.
Book Links