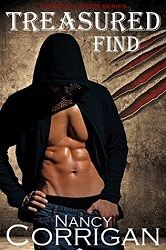 Title:
Treasured Find
Series:
Royal Pride #1
Author:
Nancy Corrigan
Publication Date:
November 11/15
Length:
328pgs
Genre:
paranormal romance
Shelf:
review
Rating: ★★★★★
Back Cover Blurb:
Sometimes the greatest finds are unexpected.
After five centuries, Rafe Alexander knows what to expect from life--boredom broken by the occasional call from Shifter Affairs. No matter how mundane the job, he always accepts their plea for help. He knows what it's like to lose loved ones to the shifter trafficking rings decimating their species.
But the task that takes him to West Virginia changes everything. A human is dead. A shifter child is missing. And the human female connected to both tragedies is hiding a secret.
He needs to discover the mystery surrounding her. But the felines he houses--lion, tiger and jaguar--want him to get close to her for another reason. Jasmine is special, both for how she affects him and for the treasure she's been guarding.
And as danger mounts, he's left balancing his desire for revenge and his need to protect. But the line between them isn't always black and white, especially where his family is concerned.
NOTE: The Royal Pride series is set in the same world as the Kagan Wolves series
This book was previously released. It has been revised and re-edited.
My Review:
If I were asked to describe this novel in 1 word, I'd be at a loss to pick just one. Unique, entertaining, hot, real, engaging, and unforgettable all come to mind. Corrigan has created a fast paced, exciting novel placed in a vivid world full of suspense and love.
Corrigan presents a well-developed concept of the different types of shifters. I like how Corrigan presents the three different groups of shifters and defines the difference between pride, pack, and clan. She also has a fantastic new take on Royal shifters. The way that these guys shift is super trippy. I've definitely never seen it before. Corrigan's mate bond is also out of this world.
Rafe's strength and caring combines with his shifter attributes in fantastic ways. I could easily see how Jazz was mesmerized by him. The way that Jazz cares about her family before all else made her easy to fall in love with. I also loved getting to know the rest of the pride. I found that I really got a feel for how the pride works and who's who.
Will I be reading more from this series? I can guarantee it, and I suggest you other shifter lovers out there do to.
Book Links